Passive income is a dream for many people, but they don't know where to start and how to get started. They don't find any passive income ideas anywhere else. These things are not taught in schools, the school system is only focused on how to get a job.
So thus most of us find ourselves running in the same rat race with everyone wondering how we got there. But in reality, you can start building money from anywhere at any time. Therefore you have to have the right idea and willingness to act on what you know or learn.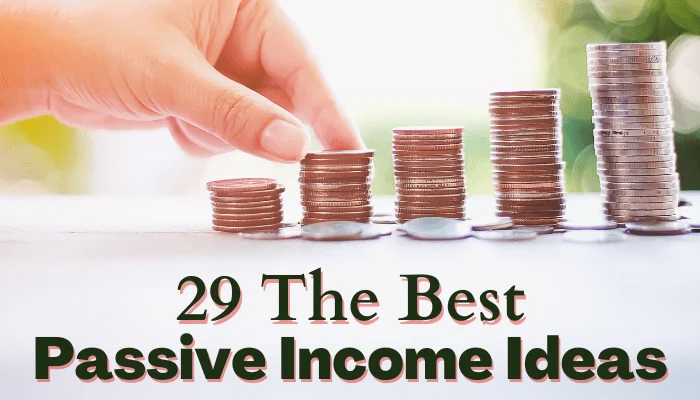 Actually, you can start building your way up to financial freedom as many others have already done. For helping you out there we are sharing a list of 29 passive income ideas for getting financial freedom. Before we get into in-depth details, I want you to know what passive income is.
What is Passive Income?
Basically, Passive Income means A Cash Flow into your pocket month after month without actively involving your time daily. You can earn Passive income while sleeping. Enjoy vacations, or maybe, play with your kids 24 hours a day, 365 days a year.
Most people out there are familiar with Active Income Sources. Where you go to a 9-to-5 job, or you make money derived from your immediate activity. There's nothing wrong with it, but here you're involved in the process. And if you go on vacation or do something other than work, you make no money.
Whereas, passive income is a way to be making money without involving your time in day-to-day activities. And continuing to earn money day & night as well.
It could be either real estate or any type of business, that requires very little or no effort to run. But, remember, this is not a get-rich-quick scheme. There is great truth behind Earning Passive Income. Here, you have two choices…
Invest Your Time:- Time is the most important investment. You can't make anything out of nothing. If you wish to create a passive income source, at first, you need to invest your time. in order to create something which will then become an asset. This will allow you to earn passive income.
Invest Your Money:- If you do not want to invest your time in creating something, you have to invest your money. You must invest your money in something out there, such as real estate, an automobile, digital products, or any other business. Your money will work for you, allowing you to earn passive income.
Consequently, it is up to you whether you want to invest your time or your money. Passive income doesn't require any secret method to start.
What is not passive income?
The majority of people misunderstand passive income as a side hustle. It is possible to increase your current income with a side hustle, but you need to put in the time and effort every day.
Your passive income is not a…
Your Job:- Passive Income means investing time and effort for a period of time, can be a few days, months, or years. However, it will then generate regular monthly income and allow you to retire early. An increase in salary in your main job is not passive income.
A Side Hustle:- A Side hustle not counted as a passive income. Perhaps your side hustle can generate passive income in the future, such as teaching online and recording your classes. You won't generate passive income until you upload these classes to digital platforms. Such as Teachable or skillshare.
Consulting:- The consulting or giving of business advice can be a very rewarding side business. Here, however, you charge by the hour or by the meeting, so you are trading your time for money. Therefore, it cannot be a passive income source. However, if you develop a course around your expertise and sell it online. Eventually, you will be able to earn passive income from it.
How To Start Building Passive Income?
Passive income is a very tempting thing for everyone but, finding the passive income ideas that best suit you is not as easy as it seems. You can't just work on one business idea that works for others.
If you want to find the best ways that make passive income for you, You need to start with some clear goals and plans. You must know how capable you are in terms of money and time. And you have to be willing to make short-term sacrifices to meet your long-term goals.
Before starting the passive income ideas that inspire you, consider the following steps to build a solid foundation.
Build A Cash Cow
Before You spend thousands of dollars on a passive income plan that you sure will work, build a cash cow that can even be your first form of a passive income!
Open high-interest savings account with at least $100 or more. Over time, the interest you earn on this cash will count as passive income. And, you may also receive a cash bonus for opening the account.
This cash cow will give you enough cash inflow and freedom of mind to keep working on your passive income ideas. Hence, you won't stop it due to lack of money inflow problems.
Build or Enhance Your Skills
Many people think that building passive income is an easy task. And you can make it without any skill or expertise. Somehow, it is true but, there are some passive income ideas, such as course-writing, video-editing for which you must have some Specific skills.
If, You have these skills, great! If not, you have to acquire that knowledge and expertise as this relevant qualification will be worth it in the long run.
Also, not only gain enough knowledge and expertise in the skill, but You also need to be brilliant at it. So that, you can give your best and beat the competition.
Also, you should learn all the skills that can automate your business ideas, like Emails, Chat-Box, Payment Automation, Staff Management. Freelancing Services Hiring Tricks, etc. For building wealth without active involvement.
Be Realistic "Commitments, Time, Money, Efforts".
As we mentioned, the idea behind passive income is that you want to earn money while you sleep. you can't establish any business without effort.
You may find that building a passive income stream involves a lot more time and effort than a standard side gig to get it up & running flawlessly.
If you already have a demanding job, kids, or an active social life, you may not have the time to spend building a more profitable business. In that case, you can consider investing or ask someone else to help you with the heavy work.
Do What You Love & Consider Your Dreams
Steve Jobs, Quote it once "Your work is going to fill a large part of your life, and the only way to be truly satisfied is to do what you believe is great work. And the only way to do great work is to love what you do" Here, need to understand this message when picking any side hustle or passive income idea.
You always do what you love to do, never select anything where you feel your activities are your burden.
If at least one part of the idea does not excite you or fuel your passion, chances are it will not work for you. So, look for an idea you can see yourself doing over the years.
Even if you step back and let the business run mostly on its own, You may still need to indulge occasionally. So make sure you choose something that you enjoy.
Be Decisive, Take Decision
Once you've analyzed your strengths and weaknesses, consider any obstacles. Think about what you'd be happy to do. You already have in your mind a slew of passive income strategies.
There may be one idea that perfectly fits with your desire and actions. Be Decisive Choose that, don't delay, you will surely achieve financial freedom in no time!
Don't give up when you face any temporary defeat or obstacles. These are a part of every business and daily life.
How Many Passive Income Streams Should You Have?
The idea of creating multiple streams of income is cool enough. But it is totally up to you. Commonly, most multi-millionaire have at least 7-8 passive income sources. And 1-2 active income platforms, so you should start creating at least 3-4 one by one.
List Of The 29 Best Passive Income Ideas:-
Today, I want to share with you A List Of The 29 Best Passive Income Ideas. There is a blend of both, some require your time, and some require your money. Therefore, you can choose any of them according to your passion and desire.
Don't just go with any, because you can't put your money or time into something that You don't have love or passion for. So here is my The Best 29 Passive Income Ideas that can generate money month after month.
1. Passive Income Ideas:- Starting A Blog
Blogging is the most popular passive income stream. This helped countless bloggers and entrepreneurs earn passive income, through affiliate marketing, sponsored posts, and selling training or courses.
It's true that starting a successful blog can take quite a bit of upfront work. yet, it's one of the most sustainable ways to grow organic and social traffic and build an email list.
The most important part of a website is creating an attractive marketing copy. so that it can attract sponsors interested in getting their products or services in front of your audience. It's hard to do it yourself and even harder to find someone to hand it over.
That's why you should invest some money in proven and user-friendly solutions. that can create compelling content, and enable it to be seen by more people.
If your time is limited and you want engaging content, you need software that can help you write all your copy. Before Now, There wasn't a good choice for Small Businesses.
But now Jarvis.ai has changed that scenario. An artificial intelligence-powered assistant that creates great marketing materials for you in minutes.
All you have to do is give Jarvis some information about your business and it will take care of the rest!
Key Feature Of A Niche Blogging-
You must be an expert using some blogging and digital marketing tools that can automate your blogging business. These tools such as lead generation, email automation, post scheduling, payment system, course delivery, etc. can easily generate passive income.
The biggest advantage of creating a blog is that this is a trust builder asset that can be turned into multiple passive income streams. You can sell your product as well as other people's products that may be digital or physical.
Becoming an expert in a certain niche and providing extremely valuable information build trust and authentication. and people love to buy products and services you suggest to them.
When you start niche blogging you are going to find a blog niche that you are interested in and passionate about. and then start writing reviews of various products or services in that niche. So that's how you are scaling up to a million-dollar blog in the next few years.
2. Passive Income Business Ideas:- Affiliate Marketing
Affiliate marketing is a great way to make good commissions and start a business on the internet with very little capital. This is a great income opportunity for "Influencers" social media website owners, or bloggers. who may promote a third-party product that includes a link to the product on their social media account or website.
Affiliate marketing is considered a passive income source. As because here you can earn commissions just by adding a link to your social media accounts. or your website once but you need to set automation because Just adding a link to social media or a website won't get conversions.
You don't need to pay or join any program or product for becoming an affiliate. But it is recommendable to use the products or services before referring to others so that you can understand how your product works.
Some Key Features Of Affiliate Marketing…
This is not a quick rich process, it gonna take a good amount of time, and effort. Be patient in building a considerable number of followers or visitors on your social media sites or website. they gonna click on your links and buy your affiliate products.
You'll need to build a sustainable fan following by producing useful information and content. that attracts the reader to your post using SEO, social media marketing, and email automation.
Amazon Affiliate Marketing might be the number one choice for an affiliate partner, but eBay, ShareASale, and Awin are well known too.
you can directly refer these products to the potential customer. Also, consider growing an email list to redirect your customer to your website using email marketing.
The easiest way to start making money is by creating YouTube videos. And then I start leveraging these with the Amazon Associates program and by the time you gonna generate very decent passive income.
Here you would simply take products that you already own, and things you've purchased then just make a review video. And then simply go over to Amazon, and join the Amazon Associates Program. And then put your Amazon Affiliate Link in the description of that video and upload it on YouTube.
Amazon Affiliate Program is one of the best Affiliate Programs out there. If you are a beginner, focus on physical products only. But if you love to sell a digital product then you can apply the same YouTube video marketing strategy for selling digital products as well.
Always select the best recurring affiliate programs which have a recurring commission for a lifetime. Because recurring monthly income is a pure passive income for you because there you needn't put any extra work into getting it.
3. Passive Income Ideas:- Starting A YouTube Channel
Making passive income is pretty much the first way through YouTube ads being displayed on your videos by Google Adsense.
Here you are creating YouTube videos that are being watched, day after day, month after month or, year after year.
Yes, of course, it can consume enough time to build enough audience minimum of 1k Subscribers to monetize your YouTube channel. But when You cross that number, you can make some substantial revenue from Google Adsense through advertisers.
Here you can find hundreds of YouTubers who invest a few amounts of money in creating the channel. And they buy the products to review and convert them into millions of dollars using YouTube channels.
Now they've hired many full-time employees for managing their backed work. And they have established a full-time business around the YouTube channel.
Key Features Of YouTube Channel Earnings:-
Here you can make YouTube Income without investment.
YouTube is a social media platform. You can make money here but, YouTube is not responsible for your failure.
YouTube is a video-sharing platform, You can share any video file here, but that should be your own and socially acceptable.
You can develop your brand using YouTube or, you can become a social identity as well.
You can utilize your knowledge, experience, and hobbies on YouTube.
You also have some passive earning potential using affiliate marketing and collaborations.
The amount you can earn with YouTube will vary based on the number of subscribers, engagement rate, average audience, and more.
Most YouTubers can expect around $0.01 to $0.03 per ad view.
Many YouTubers also make money by soliciting donations through patrons.
YouTube becomes a passive income stream gradually, which keeps on giving. After YouTube monetization, your channel becomes eligible for sponsor ads. which can generate recurring income from your YouTube channel.
The secret to developing a successful YouTube channel is to create content consistently and schedule for a long time, and that is all. If you can stick with it for a long time, you will definitely and eventually start reaping the passive income rewards for so long.
If you don't know how to create a YouTube Channel check out our article, How to Create A YouTube Channel on PC. as well as on mobile step-by-step guide.
4. Passive Income Ideas:- Start Drop-Shipping Business
Dropshipping is an easy way to establish yourself with an online store and make money with virtually no effort. Simply select the items you want to sell, and a supplier will make, store, package, and ship them to your customers. You only need to focus on storefront and marketing.
Basically, Dropshipping is one of the most profitable and fast passive income sources on the internet. With drop shipping, You can find trending products in the real market, which you can then sell online to customers living around the world. You can sell products in different dropshipping niches, from fashion to home decor to beauty.
Key Features Of Drop-Shipping Business
Easy to learn and start.
You need to invest a low amount of money and earn a high-profit margin.
You don't have any money to invest in products.
You can sell stuff online without the products by displaying products images on your storefront.
You get a retail price first from the customer, then buy the product from your supplier at wholesale price.
Your supplier directly ships your customer's items to their homes. Your product's retail price is under your control.
The magic in dropshipping is you create your own business and control how much you charge for the products.
In fact, out of all the other passive income ideas on the given list, dropshipping is the one where you have the maximum control over your earnings.
You can start dropshipping today, sign up for Shopify. Once you've created an online store, You can use certain product importing tools like Oberlo to find and import high-quality products into your store.
Oberlo is a close alternative to a dropshipping store with a lot more input product selection and quality control. It also helps to buy wholesale products to sell at your store.
Using Oberlo Wholesale Marketplace, you can connect with local, US-based suppliers.
You can buy products from US-Based Suppliers at wholesale prices, and sell them to your audience. You can combine this option with dropshipping by holding some products and dropshipping others.
5. Passive Income Ideas:- Start Print-on-Demand Online Store
Selling Online is one of the most popular ways to make eCommerce passive income online. Here you can use your graphic designing skills by creating an online store and displaying your designs in it.
When you sell your design on third-party sites such as Teespring, or Zazzle, the downside is that your margins on these sites are often too less.
However, you create that unique Winning Design. You will have to compete with other design vendors.
So, if you build your store and list all your designs here, you have complete control over your store. And you don't need to compete with other sellers. Furthermore, you can determine the best mileage for your design as you wish.
Key Features Of POD Online Store:-
You'll have to do some work, creating art and researching what types of designs customers are buying today.
You can build a steady passive income source from print-on-demand graphic designs.
It is possible to outsource almost all permanent work if you don't have any design skills.
It is possible to build an entire portfolio of graphic designs that no one wants, and you have to create something desirable.
One of my best recommendations for choosing an online sales platform is Shopify. The number one spot with the highest number of integrations and tools, so don't hesitate to get started with Shopify right away!
6. Passive Income Ideas:- Selling Digital Products Online
Here, for most people, this may sound like an area that you've never even really heard of before. And it is the current scenario of people learning new skills. While they go out there to get an offline institutional education, the big problem with that is…
Key features Of Digital Products Selling Business
It will cost them thousands of dollars, if not tens of thousands, but Digital Products or Courses are cost-effective and much cheaper than institutional courses.
Most of the time, the things written in a textbook are often outdated, while online courses are much more current and up-to-date.
There are very few institutions available in all cities which can provide the latest learning skills and job-oriented courses, Such as digital marketing, social media marketing, or eCommerce Drop Shipping Skills.
If you are somebody who is maybe more extroverted or you like the idea of teaching. this can be one of the best methods for earning passive income by taking something you're already knowledgeable about.

Creating an online course and then selling it to people online and not only are you making a very decent passive income source for yourself. And, you are also helping people in a certain area of their life, where they're struggling with it.

So it's a win-win situation, and now you might be saying to yourself that Who in the world is going to buy an online course? But you would honestly be surprised by knowing this, Here millions of digital marketers and online teachers are doing this every year and making a wonderful living with it.

There, you can create DIGITAL PRODUCTS such as eBooks, Audio, or Video Courses. But remember, it all takes time and effort. Creating a single product on course won't let you earn enough passive income. So, you need to create more excellent courses or products for making up sales.

There are several best tools and Online Teaching Platforms available for you that create your digital products or courses easily
7. Ideas For Passive Income:- Writing & Selling An eBook
While writing a blog and monetizing it is a great passive income idea. Writing a book or eBook is a better example of passive income, as you only need to write it once!
Instead of writing a blog, spend some of your time sharing your creativity or expert knowledge by writing a book or eBook and selling it. Every time someone buys a copy, you'll receive royalties, which can add up quickly if you hit the right track.
The royalty for a printed book ranges between 5-20% of the price of a book. E-books are even more profitable. It's paying royalties of around 25%, whereas audiobooks typically pay between 10-25%.
Obviously, you have to write a good book to earn a living from your writing. However, some sales can help you make some extra money you need for an upcoming vacation or get you closer to your early retirement goals.
Sure, it's an extremely competitive market, but if your writing chops are great, you could find yourself a fair share of the profits. By creating and marketing how-to e-books on popular niches, you can build a fan base of loyal readers.
Key Features of Writing and Selling eBooks.
Self-publishing has become more the norm today than going through a traditional publisher. Check out Amazon for evidence or visit any blog offering free e-books to sign up for their newsletter.
In fact, when you buy an e-book from sites like Amazon, chances are you'll pay for a self-published book.
Self-publishing is ridiculously easy. The barriers to entry for becoming a (self)published author are zero these days.
You can put your e-book up for sale on Amazon using the Kindle publishing tool.
It will require a lot of upfront marketing before You'll turn it into a passive income stream to make money. But if you can get it to work, you're well on your way to maximizing this passive income idea and building a solid residual income stream.
Amazon is the most competitive. So if you want to rank high in their search results, be sure to use best practices, including professional cover design. You don't have to hire someone expensive) and lots of customer reviews.
If you are really ambitious, you can create a series of e-books or an in-depth guide on something that is not too broad and try to market your book on social media sites and use services such as Twitter Ads (promote through their advertising network), Facebook Ads (target groups) or Google Ads.
Consider taking advantage of powerful content creation tools. Jarvis.ai to accelerate and upgrade the content you publish.
Jarvis.ai is a new AI-powered content creation app. That is designed to help marketers and entrepreneurs better connect with their audiences.
If you need a quick way to promote your product online without sacrificing the quality This is your tool!
8. Smart Passive Income Ideas:- Hosting Airbnb
Now come to another passive income idea on the list which is Airbnb. The world's number one home-sharing platform! While it won't be suitable for everyone. If you have a spare room, vacation home, or any other residence, you may miss out on some impressive returns!
KeyFeatures of Hosting Airbnb For Passive Income
Airbnb is an online platform, that connects people who want to rent their homes or unused space with people looking for it in specific locations.
Airbnb and similar services have revolutionized where people stay while they travel. And it has opened doors to serious passive income.
Airbnb is a platform that provides an easy and stress-free way for people to earn some income from their property.
Guests often find that Airbnb is cheaper, has more character, and is more homely than hotels.
Here you don't actually have to buy a new property for Airbnb to make passive income. You can also rent a room in your current home or apartment if you have a spare room.
You can turn Airbnb on or off according to your preference. When you want to make extra cash, you can rent your place. You can even rent out that spare bedroom.
Being an Airbnb host isn't really passive. Sure, you already have a house or apartment. But you still have to act as part landowner, part maid, and maybe even cook some food for your guest.
You should be legally allowed to operate Airbnb from your property. Some cities, neighborhood associations, and home-ownership groups forbid it. But if it's legal, then Airbnb hosting might be perfect for you!
You can turn your home into a passive income source simply by turning an empty room into a way to earn money while you sleep—by hosting bedtime guests! If you've been leaving your current location vacant for a while, consider renting it out.
If you have permanently vacant space in your home, consider renting it out to guests for a short period on Airbnb.
9. Passive Income from Airbnb Alternatives.
This is an alternative option of Airbnb, where you rent out your extra or unused space not for days but months. If you have extra room in your garage or some additional parking space, you can rent these together.
Key Features of Airbnb Alternatives Options.
If you book space for an event and you no longer need it, you should take a look at sites like ShareMySpace, where you can easily advertise your free space.
Alternatively, you can offer uninsured office workers and professionals a great place to work comfortably. This way, your tenant gets a comfortable working environment while you earn a decent passive income. So it's absolutely a win-win situation for both.
That means you have hundreds of extra dollars in your account, and it also means that someone else lives in your house.
Make sure you both sign a formal rental agreement stating all the rules and regulations of the house, including who pays for utilities and rules about guests, cleaning, and sharing the refrigerator.
Letting strangers into your home comes with an unusual risk, such as it could be for your tenants to sabotage or steal property from your home, or worse. However, if handled well with clear policies and guidelines, you can get paid and be on your way to earning passive income.
10. Passive Income Business Ideas:- MLM Marketing
For those, who are not familiar with MLM, It's stands for a multi-level marketing program with residual income aspects.
In MLM programs, all members are encouraged to sell the company's products. Of course, the participants get paid for it. But usually, The big money comes from hiring others to sell those products under your account.
Key features of MLM Business…
Each person you recruit pays you a percentage of their sales, as does each person they recruit. So you encourage those people to recruit others, etc.
Here you form a team in a multi-level – pyramid shape most of the time with several people at the bottom level and a few people at the top.
Those at the top of this food chain earn residual income in their "line" through those below them. The people above themselves are not selling anything. Yet they earn from those who are below them.
Here you can convert your entrepreneurial spirit into passive income. But keep in mind that MLMs are very controversial.
Most people get stuck buying many products in advance and then try to sell them to their friends and family. Do not make this mistake ever. Start with small products and then increase them over time.
11. Passive Income Ideas:- Creating Comparison Content
Yes, this could technically fall under the category of niche blogging or making review YouTube Videos. but this has been such an eye-opener for me and a huge opportunity for earning more passive affiliate income. So I wanted to break it off into its own category.
And that is simply by creating comparison content between two different services or products whatever it may be. But what that generally means is lower traffic but also lower competition. The low competition gives you enough chance to get ranked on Google fast and easily.
Key Benefits of Creating Comparison Content:-
10x Chance to get ranked on Google Search Engine.
People are ready to make a decision for purchasing products or services as they know about these two companies they're just looking for the last-minute details to choose one over the other so the level of the intent behind this traffic is very high.
If they go ahead and click on either product's links you gonna get an affiliate commission.
Therefore a lot of opportunities here for making comparison content such as Amazon Affiliate Product Comparison Website, Digital Product Comparison articles or videos, etc.
So comparison content creation is one of the best ways in my opinion for generating affiliate income or passive income and because you're going after these long-tail keywords it's not very competitive and so it is a lot easier to rank for.
12. Generates Passive Income From A Membership Site
If you're not familiar with What a membership site is, it's a site that shows contents, exclusive to members only. There is the information behind a paywall that requires people to pay a monthly subscription to access it.
We're all familiar with a couple of very famous membership sites, one of these being Amazon Prime, another being Netflix or even Spotify. All these are paid subscription-based membership sites.
Here, essentially you're doing for earning a passive income doing exactly what all these companies are doing but just on a much smaller scale. You're taking something in that you're knowledgeable of and creating a membership site around that. It may be healthy recipes, diet plans, weekly makeup tutorials, etc.
Key Features Of A Membership Site:-
You earn monthly recurring income as long as your subscribers use your product or services.
This recurring revenue model is very predictable. You already know how much you will earn per month.
You need to set up this membership site once, and then you will earn pure passive income doing nothing.
You will have to create the content for the people who wanna subscribe to your product on a monthly recurring fee, but if you do it the right way, you don't have to create that content in the first place.
You can outsource a freelancer, and create valuable content for your membership site.
So, if you guys want to learn more about a membership site and how to start a business on it, then I highly recommend the go-to place for this is Teachable. which is the best platform that does all the back-end work for you.
Teachable gives people access to the course they help with lost passwords they collect the money on your behalf. They do everything, you have to set a price and put content in there.
Now, they have a weekly webinar they run called the seven steps to a successful online course. But this also applies to membership sites I would highly recommend sitting in on for learning more about this platform.
One of my favorite parts about teachable is that they have a completely free plan that does allow you to make money.
13. Residual Income Ideas:- Stock Market Automated Investment
Now let's talk about the stock market, there you can earn passive income from the stock market too, and you do not need to manage it yourself. There are many ways to automate this task.
For this, you need a Robo-Advisor, who will automatically invest money in the stock market. The whole process will take only 10 minutes to register an account with the Robo-advisor. There you will choose a portfolio that aligns with your goals.
Now you must be thinking that who is that Robo-Advisor? So here is the answer- A Robo-advisor is a piece of software that allows you to invest automatically without your contributions. And it helps and advises you for setting your goals and investing your money exactly how you want over time.
Key Features Of Investing In The Stock Market…
Investing for appreciation is not a passive income source. However, it can be, if you consider investing in stocks that offer high dividends for their shareholders, then it could potentially generate impressive cash.
Here Robo-Advisor will help you in selecting the perfect Stock for your investment.
Here are The Best 11 Robo-Advisors you can choose for your passive investment portfolio.
Here, you can find different general investing plans that are mostly just portfolios of stocks and bonds.
Some portfolios are conservative, and some are more aggressive.
They also offer retirement planning, and they have different target-date retirement funds based on when you plan on retiring.
It's passive investing, where you put your money in this, and you completely forget about it, and you leave it there to earn compound interest and earn more money over time as a passive income.
Remember, stock market investments are high-risk, never invest blindly. Setting automation is good but always keep checking your account from time to time. Also, always get expert advice before starting an investment portfolio.
14. Income From Real Estate Investment Trusts (REITs):-
Many companies give you the ability to invest in commercial and residential real estate projects without getting involved in day-to-day management. And these companies are commonly referred to as REITs.
REIT stands for Real Estate Investment Trust, which owns and manages real estate on behalf of a group of investors seeking to earn passive income. They hire a team to do the work and collect their regular distributions from real estate investment trusts.

REITs have established a specific legal structure, where they pay little or no corporate income tax when they pass on the majority of their income to their shareholders.
Key Features Of REITs Passive Income Streams:-
You can buy REITs from the stock market like any other company or dividend stock.
The best REITs offer a dividend that grows regularly and can act as a passive income source in the future.
You'll earn whatever the REIT pays as dividends, and the best REITs have a record of increasing their dividends on an annual basis. You can have an increasing stream of dividends over time.
Like other dividend stocks, individual REITs can be riskier than owning an ETF that contains dozens of REIT shares. A fund offers instant diversification and is generally safer than buying individual stocks — and you'll still get a decent payout.
You will need to analyze every business you can buy.
If you don't understand, what is stock market, is and how it works, you may have to face huge losses. Like any other stock, the price can fluctuate a lot in the short term.
REIT dividends aren't safe, even through tough economic times.
If the REIT doesn't generate enough income, it must cut its dividend or liquidate it entirely. So your passive income may be affected when you want it the most.
To build your passive income stream from REITs, you must automatically keep reinvesting your dividend money to position yourself for higher returns.
Note:- This is a mature type of investment, which requires some knowledge and understanding of the stock market, so try to learn and understand it as much as you can, and don't invest your hard-earned money blindly.
15. Smart Income Ideas:- Invest In Crowdfunded Real Estate
This is the kind of investment where you can invest money with people from all over the world. And that money will be invested in private real estate deals, so if you haven't guessed already, this is one of the best ways to earn passive income.
So it's like putting your money into an asset and allowing that money to work for you instead of actively engaging your time. So if you already have some money set aside it can be a good way to earn some passive income. Could be an interesting way.
This is one of those ways to earn passive income which requires money to make more money. As we said at the beginning of this article, you have two options to earn passive income. one is that you Invest your time creating something or two to invest the money you already have and let that money earn more money.
There are many companies now available that offer the opportunity to invest in real estate deals with or without assets like a shareholder.
Key features of Crowdfunded Real Estate Platforms…
It has tangible nature of the investment
Low risk due to very low correlation with the stock market
multiple Passive Income Return Components (assets value appreciate, rental income)
Tax Benefits or Advantages.
These companies or platforms provide a variety of services such as maintaining, renting, and managing. And as a result, you can avoid these manageable parts of real estate investment. put your hard-earned money into these types of alternative investment options.
It is entirely up to you what type of investment you want to make in any real estate crowdfunding venture. Different companies specialize in different types of ventures. Some of the most popular passive income apps options are:
DiversyFund – It deals with multi-family housing such as Apartment Buildings
Groundfloor – It works for fixing and flipping types of properties.
FundRise –It has Expertise in Investing in real estate portfolios that include commercial and residential real estate ventures.
You can start it with a $500 portfolio. My recommended site is Fundrise because it is very transparent about the advisory fees. you're paying about a 1% fee of what you have invested but overall you gonna get a great experience with fundrise.
You can see what projects you have invested in and check the details and see where your money is going.
Also, if you guys do decide that you want to check out fundrise make sure you have a minimum time horizon. hereof here of at least five years because your money is being invested in real estate projects so they can't guarantee the liquidity.
So you have to understand that as somebody who invests in crowdfunded real estate. you're gonna need this money in for 2-5 years don't invest it here if you don't have your time commitment.
16. Create An App & Earn Adroll Money
Building an app can be one of the best ways to make consistent passive income. by investing just some money at first and then getting rewarded over time.
this can be a game that helps mobile users to perform some difficult tasks. Once you publish your app, users download it free or on purchase, and you can generate passive income.
Instead of hiring someone for it, develop your own IT skills hourly. you can turn your tech skills into a passive income venture by creating an app that people can download.
You don't have to spend anything for the app to be revolutionary or download it to make money. Angry Birds Game is a free-to-download smartphone App created in 2009, and now that earned approximately €272.3 million in 2020!
There are several ways available you can quickly teach yourself various app coding languages. and start creating your very own smartphone apps. Even if you are not tech-savvy, you can still make money by creating an app.
You can learn some basic coding which is surprisingly very interesting and useful. You also can find someone with the relevant skills to build partnerships and split profits. Sure, there's more money available if you do it alone, but if you come up with the next Fruit Ninja, you won't mind sharing!
Key Features Of Building An App Income Stream:-
An app has a huge advantage if you can design something that your audience will enjoy.
You have to consider how to generate sales from your app.
You may run in-app ads or charge users a nominal fee to download the app.
If your app gains popularity or you receive feedback. You will need to add incremental features to keep the app relevant and popular.
If you pay little or no money for the project, you have a little financial problem here, so consider some investment.
It's a crowded market, and successful apps must provide an attractive value or experience to the users.
You will also want to make sure that any data your app collects complies with privacy laws, which vary from country to country.
The popularity of apps can also be short-lived. Your cash flow may dry up faster than you expect.
You can monetize your app in several ways, including running in-app ads, offering pay-walled content, and charging for premium features.
App Store is flooded, with tons of other Apps, so everything you create must be excellent and desirable.
Even if you have hit upon a successful app-building idea, it may still need to receive incremental development and improvement to remain relevant and popular.
You'll need to decide how you want to monetize your app through an upfront fee, in-app ads, affiliate links inside the app, referrals, or even a monthly fee.
17. Online Income By Leveraging Social Media Platforms
Leveraging The most popular Social Media Platforms can become a very cool passive income source for you. Facebook, Instagram, and Youtube are some of the most popular Social Media Platforms which can be utilized easily.
Therefore Instagram is one of the best social platforms where you build up a personal brand page or build yourself up as an influencer and then you can…
Start selling your own digital product.
Sell your own coaching PROGRAMS.
Sell other people's products as an affiliate marketer.
This is just one way you can do it. Second, you find an influencer like you who have a lot of stuff going on and might just not enough have time to manage their own Instagram page well.
Become a Social Media Manager:- Manage others' Instagram pages on behalf of them and they will pay you week after week month after month on a recurring basis.
You could help local businesses establish a presence on social media and charge for it.
I know that sounds like a lot of work and needs so much involvement in the task so how is that going to be a passive income stream?
How To Make Social Media Platforms a Passive Income Stream.
Yes, you are right this takes lots of time and effort for managing somebody's page or even managing your own page or pages for a business. so here is a system you need to create for converting it into a passive income venture.
Train some VA or Virtual Assistant on how to do the ins and outs of this operation.
You're dealing with a client who is paying you $1000 a month to manage their Instagram page for their business.
Hire some well-trained virtual assistants from overseas and pay them 30-40 percent amount per month as a salary.
Your job is just going out there and getting clients and essentially they pay you a thousand you pay your VA $300-$400 and you're collecting $600-$700 per month in the process that is how an Instagram marketing agency can become a 100% passive income source.
The point to consider is that this isn't gonna be passive income from day one. you're gonna have to actually build up this business and get a couple of clients. to figure out how to grow and manage Instagram pages yourself and then train a virtual assistant.
But once you have done all those things it can be a very passive business. now if you are looking to learn more about Instagram in particular Instagram marketing agencies. or how to grow your own page or someone else's on Instagram.
18. Residual Income Ideas:- Start A Social Media Marketing Agency
For earning passive income by setting up and running Facebook ads for small businesses. maybe this is an opportunity you haven't heard of before, and maybe, you're saying oh it's over-saturated, I don't want to do that. But still, there are tons of businesses popping up out there every single day, and a lot of them are stuck on social media especially on running ads online.
So, what you're doing with this strategy is helping businesses Record, Create, and Optimize Facebook Ads. And, then after you've created these ads, you pretty much do nothing except send them a monthly report of how that ad is performing.
And yet they're still paying you, and you're earnings per month may stand from somewhere 25%-50% per month. This is basically the industry standard most businesses start out with a monthly budget of $1,000 per month and only 75% goes to actual ads only.
Key Features Of Social Media Marketing Services Agency…
The beauty of this is that once you've actually created the ad and optimized it once and keep earning month after month.
Regular testing and ad optimization will assume your target audience, and that yields great results for business owners. So they don't want to stop that ad and let it run month after month.
Therefore you just have to take some screenshots for a business owner and supply them with some metrics on how their ads are doing and in return, they keep sending you a fixed amount per month and you gonna keep 25%-50% out of it as a pure passive profit.
You can begin to multiply that method across many different clients this can be a very simple way to earn passive income.
Now if you guys are looking to learn more about Facebook Ads how to set them up, and how to run them. this skill gonna make you to able to run ads for business owners. And will let you set up your sustainable social media marketing services agency.
So here I'm gonna link up some Best Facebook Ads Courses for beginners. and although it's an opportunity that's been out for a while there is still so much untapped potential here. and it's a very powerful business model that can allow you to earn passive income.
19. Passive Income By Licensing Your Music
Are you a musician? You can write and license your music anytime you want to get paid. When someone wants to use your track in their project, they have to pay for it.
If you find your passion for creating audio, you can experiment with a wide range of different products, from intro and outro to full albums and mixing samples.
There are a few ways to make money by licensing your music, and it's a great way to increase your income. If you have acquired some audio-making skills, you should put them to work. An audio track can be as simple as a jingle or podcast intro.
Creating audio tracks for other people to use is a great way to earn extra cash. People constantly want to brand themselves with the right sound.
The way to start is to move your work to a library that hosts content like Spotify, iTunes, or Pandora.
It can monetize your passion for making music and even get you noticed by a record label if the song recording is lucrative enough.
If you want to create complete songs and earn passive income through royalties, you can license your tracks on some platforms like SoundCloud and AudioSocket. All you have to do is research your audience. And find out what kind of content is trending.
Here, you can easily & quickly start building your portfolio of tunes. Music is often licensed for video productions such as YouTube channel videos, Twitch, television commercials, and more.
With the increasing demand for YouTube videos and podcasts, there is a huge demand for music. People are ready to pay a lot to try their hand at the best songs.
20. Passive Income Ideas:- Sell Stock Photos
If you always have your camera on your hand and you're famous for taking excellent photos. you can monetize this passion by selling your images to stock photography companies.
So, whenever someone buys your images through these stock image selling sites, you will get a share of the profits.
Key Features of Stock Images Selling Business…
While you could launch a site to sell your photos directly, consider submitting your photos to stock photo sites. DepositPhotos, well known for sourcing stock photo material.
The best stock images sites to sell your photos are Adobe Stock, Shutterstock, Alamy, etc. these are the most well-known sites.
After the initial time spent taking and uploading photos, you can receive regular royalty payments for years to come.
While being a photographer may sound like an active income business, it is not. Photographers not only make money just by taking photos, but They sell them too.
Stock image sites, magazines, and canvas printing for your clients are some of the ways you can make big bucks in the photography business.
All you need is a good quality camera to get started. Start even with your smartphone's camera.
Many stock image companies buy good-quality photos taken on your smartphone.
Thus, this passive income idea doesn't need any fancy equipment.
So now, you can also use your phone to take these photos and sell them on these sites to make passive income.
You can also take high-quality product photos for sale to e-commerce businesses. For this, you should get a good product photography course to learn everything about product photography.
But, keep in mind that there is a lot of competition in the space from both amateur and professional photographers.
21. Earn Passive Income From Your Designing Skills:-
If you have design skills, you can turn them into a money-maker by selling items with your designs printed on them. Businesses like Teespring and Zazzle allow you to sell T-shirts, hats, mugs, and more with your design.
These websites serve to turn your designs into trendy T-shirts or a range of other products. With this business idea, all you need to do is create the designs for products. And the supplier will do the rest. And he gives you a share of the profit each time your designs get sold.
You can also benefit from your Designing talent through Amazon. With Amazon Merch, all you need to do is upload your designs, and Amazon will create the product, sell it, package it, and ship it too.
Key Features Of Graphic Designing Income Streams:-
You can start with your design and see what interests the market and expand from there.
You may be able to capitalize on a growing interest in a current event and design a shirt that captures the spirit of the time or at least takes on a sarcastic look.
And you can even set up your web storefront through a site like Shopify to market your goods.
Printing partners allow you to ship items directly without investing in merchandise. It's avoiding one of the Biggest risks of tying up your capital.
But you can get a better price if you invest in some of the inventory yourself.
You also can sell your print-on-demand products on Etsy Store.
You can print custom designs if your work captures the attention of users. You may get paid for your Designs while you sleep.
Also create a YouTube channel to use affiliate marketing on other Print On Demand T-shirt products that you review, allowing you to monetize the Products of other Print On Demand Products makers.

Here is a helpful article, "Best Print on Demand Sites: The 2022 Ultimate Guide." for you. It will guide you on which site will be best for your Design selling business.
22. Use Passive Income Mobile Apps
Passive income apps work just like they sound. You install them on your smartphone and do some tasks to earn money.
Your daily tasks will be a daily activity and turning a small financial investment into a passive income source. There are tons of apps available that make better use of your mobile device and time.
Some good passive income apps are listed below…
Fundrise – Fundrise is a real estate investment platform that lets you invest in real estate projects. You can start investing with an initial amount of $1,000. It also comes with the option to take quarterly dividends, which serve as your passive income.
Inbox-Dollars – InboxDollars offers cashback for doing activities that you might do anyway, like shopping, watching TV, and searching the web. The cashback and $5 bonus are your passive income for signing up.
Dosh -Dosh is a free cashback app that gives us the option to link our debit and credit cards to its system. When we pay for something through these cards, We get passive income or cashback. It's the fastest-growing app that finds cash for consumers. It helps businesses acquire and retain customers.
23. Earn Passive Income From Instagram Sponsored Posts
If you love Instagram as much as I do, you might want to turn your scrolling time into posting time to help increase your passive income.
The great thing about Instagram is that you can create a fan page for literally anything. Whether you love to travel, fashion, beauty, home decor, or some weird dog grooming, you will find a committed audience.
The secret to getting tons of Instagram followers is your consistency with the type of content you post. So make sure you stay in one place so that people who follow you can count on you to deliver more content in the same way. Don't forget to include your email address in your Instagram bio.
As your account starts to grow, sponsored post requests will also allow you to earn money on Instagram.
The more Instagram engagement your post gets, the more people will reach you, so be sure to create engaging content.
24. Earn Passive Income By Investing In Annuities
Annuities are one way to address potential income shortfalls. An annuity to consider is annuities with a guaranteed minimum income.
Another annuity that may be of interest is an annuity contract that will provide periodic payments to you, the investor, until death. An example would provide monthly payments till you are alive. The amount you receive each year depends on the age of the annuitant.
These passive income ideas generate regular income for as long as the annuity is annulated. An Annuity can become one of the best investments if you're looking for passive income ideas because they provide a guaranteed income backed by an insurance company.
In addition, the annuity contract will provide you with monthly payments until death. It may be more than enough if your needs fit within these payments. You can use an annuity to meet your income needs during retirement.
The risk of some annuities is that you're stuck with a single amount, or they don't keep track of the actual rate of inflation, eating away at your money over time.
Annuities can be expensive and force you to pay high administrative fees. It is difficult to predict how long a person will live when purchasing an annuity.
The initial cost may be too high for some people. so consider all the facts and then make up your mind about these passive income ideas.
25. Passive Income Business Ideas:-Buy an Established Business
In business, cash is king. Apart from providing financial stability, investing can help you meet your obligations, grow your business, and much more.
For many businesses, The business itself provides a significant cash flow. This investment potentially can be invested back into the company, or used for personal means.
Not every business needs to be very powerful or dynamic to provide a solid investment return for the owner. In many business schools, students are taught to be managers in existing companies and drive them to even greater success.
These professors suggest going the opposite route. Instead of starting with a high investment, start small by buying an existing business and managing it for financial gain.
Established businesses, usually those that are already in operation. These have a base of many loyal customers and present an opportunity to generate passive income.
If done well, you can generate cash flow independently and either grow the business or earn a decent salary from your profits.
26. Smart Income Ideas:- Become A Silent Business Partner
You want to start a business but don't have the time or expertise. You can consider becoming a silent business partner. In other words, you invest money in the company but do not invest your time in day-to-day operations.
Here, you contribute financially only and leave the day-to-day operations to your business partner. As a passive business partner, you will earn passive income at a regular percentage of profit.
Here your money will make money for you without your active participation. You can find many websites on the internet that are looking for a silent business partner to invest in their business. You do not need to think about where and how to invest.
27. Ideas For Passive Income:- Sell Digital Files on Etsy
Many people have found a way to take advantage of Etsy to sell digital files that people find helpful. You can create an online profile on Etsy, set up your shopping store, and sell some of your digital creations to earn passive income.
It means the art you create like budget worksheets, emergency contact sheets, cookbooks, and more. You can also partner with someone else to promote or sell your content. These income ideas can serve as a great favor to improve your financial condition.
You can download millions of digital files from Etsy instantly. You can even make some demand full or trendy merchandise to sell on Etsy to earn a decent passive income.
There is no limit to how you can make money online and, creating an online store through Etsy can be one such way.
28. Residual Income Through Selling Your Videos
If you find yourself in the midst of drama and excitement, You might want to take out your phone and hit records that help you make some passive income.
Nowadays, global statistics show that people are obsessed with video content so, you can find an audience for your movies as well.
You can sell that video to news sites. If the video goes viral, you can earn recurring money for weeks, months, and sometimes even years.
Of course, the easiest way to get in on the action is by being at public events such as protests, demonstrations, and festivals.
Wherever there is controversy, you will get opportunities to sell your content. If you are good at producing entertaining content, companies will pay you to create viral videos.
29. Passive Income By Flipping Websites
Do you love building websites and online stores? If yes, you can make passive income by selling them.
You'll need to get your first few sales to prove that your store is Awesome. If you have enough design skills and create some content on your website, you may find someone willing to buy your store.
If you're looking for a place to sell your website, you can try Shopify's Exchange Marketplace. Here, you can sell your newly built online store or your upgraded six- or seven-figure store. It's a perfect platform for website flipping.
Conclusion
So these were my 29 best passive income ideas that will help you make money in 2023. Some of these require investment, and some can be started without any upfront investment.
Overall, passive income gives you flexibility in your income and the ability to earn money. Here are 29 passive income ideas for your convenience, so you can choose the one that works best for you.
I hope you will find this "Passive Income Ideas:- 29 Best Ideas For Passive Income" post helpful. If you find this content valuable, please share it with someone who needs it or looking for something like it.
Thanks for being here, and make it a great day.
.