Isn't it remarkable that you can achieve First Page of Google rankings for your content without the need for a website? Indeed, this is an exciting prospect.
Today, we're about to uncover a secret affiliate marketing technique that will help you rank your content on the coveted First Page of Google.
What's even more intriguing is that you can accomplish this without having to create a website. You can generate income through various avenues such as Google Adsense, Affiliate Marketing, and selling your own digital products.
In the following discussion, you'll discover how affiliate marketing can become a lucrative venture by securing a top spot on Google's first page, all without the necessity of a website.
We'll explore some proven strategies, leveraging the power of YouTube and Quora to make it happen. To kickstart this strategy, the first essential step is to target and rank for a specific keyword.
The Power of Ranking on the First Page of Google
Before we dive into the strategies, let's remind ourselves why ranking on the first page of Google is so critical:
Enhanced Visibility: Securing a spot on the first page means your content is among the first things users see when they search for relevant keywords. This translates to increased clicks and traffic.
Credibility and Trust: High-ranking pages are often seen as more trustworthy and credible, positively impacting your brand's reputation.
Organic Traffic Boost: Most users rarely venture beyond the first page of search results. Thus, ranking there is the key to attracting organic traffic to your content.
Now, let's uncover the actionable steps to achieve this goal using YouTube and Quora.
How to Get Your Content On First Page Of Google?
When people want their stuff to show up on Google's first page, they usually target big and competitive words. For example, if you want to talk about a software like ClickFunnels, you might try to get Google to show your page when someone looks up "How ClickFunnels Work?"
But here's the deal: when you do a regular Google search for such things, you'll find a ton of results. So, if you're trying to get on that first page using the usual methods, it's going to be really tough.
However, if you pay close attention, you'll see two main things happening on Google's first page:
You'll find results that take you to YouTube videos.
You'll also see results from a website called Quora.
Get Your Content First Page On Google With Quora
Quora is a popular place where people ask questions, and many folks like to use it. Google sees Quora as a big deal, so instead of building a whole new website from scratch, why not borrow some of Quora's authority? It's a giant and unbeatable site.
Now, let's look at an example. Imagine there's a question on Quora like, 'Does Anyone Use ClickFunnels and Is It Worth It?' Surprisingly, this question shows up on Google's first page when someone searches for 'How Does ClickFunnels Work.' And the Quora answer to this question has received 7 upvotes.
So, how does Quora decide which answer should be at the top? Well, Quora looks at two main things:
The quality of the answer compared to others. The one with the most upvotes usually wins.
How well the answer is formatted. If it uses bold text, italics, bullet points, and sometimes even images or videos, it's more likely to get noticed.
So, before you post something on Quora, think about these things:
How can you make your answer look nice with formatting?
Can you use bullet points to make it easy to read?
Should you add images or videos to make it even better?
How can you find more articles related to the same topic on Quora?
Quora is like a community website, and you can join in. By giving high-quality answers with things like bullet points, bold text, italics, fonts, images, and videos, your answer can get lots of upvotes, and Google might even put it on the first page.
Even if your article doesn't make it to Google's first page, you can still get lots of good traffic to your link, whether it's a video, affiliate link, blog post link, or opt-in page link.
And guess what? If you create your own space on Quora and regularly post high-quality articles there, you can even earn money directly from Space Monetization through Quora, and they'll send you your earnings once you reach a minimum of $10.
Now, let's talk about a step-by-step way to find the right keywords. We're going to look for keywords that aren't too competitive but are still searched a lot.
To do this, we're going to use a tool called Ahrefs. Ahrefs usually costs money, but you can try it out for a full 7 days for just $1.
First Page Of Google Ranking Using Quora:- Step-by-Step Process
Go to the Ahrefs website and put in the address of your website in the search bar.
Type in a keyword you're interested in, like 'Shopify,' in the 'Include' section on the next page.
Once you do that, you'll see a bunch of different questions that people have asked about Shopify on Quora. This is where it gets interesting because you'll notice two important things:

You'll see different keywords and topics that you can use to create content around because you know people are looking for these answers.
You'll also see the questions that are recent and getting a lot of attention. This is where you can step in and help answer those questions.

So, the idea here is to guide people from Quora to your affiliate link or your website, which could be a link to your YouTube video or your affiliate link.
"So, the main idea of this post is to show you how to get your content on the first page of Google and make money through Google Adsense and Affiliate Marketing, all without needing a website.
To make this happen, we're going to use Ahrefs for keyword research, and then we'll take a close look at the many questions posted on Quora. There can be a ton of questions there! Now, when you're checking out these questions, here's what you need to consider:
How recent they are
How many times people are searching for them
How many comments they have
Which one is ranked number one on Quora
How the answers are formatted with things like bold text, italics, bullet points, images, and videos
By combining thorough keyword research and analyzing Quora answers, you'll get a good idea of what works best.
From here, you'll need to put together a detailed and well-structured answer that includes:
Being the top answer on the topic
Using keywords that are popular and get lots of views and upvotes
Including images, videos, and more if needed
If you're not sure how to create content using all this data, just remember these key elements.
Now, here's what comes next: you can go to websites like Freelancer, Upwork, or Fiverr to find a skilled content writer. Share all the information and data you've gathered with them.
Once your Quora answer is nicely formatted and detailed, you'll want to make sure it gets upvotes. This helps it rise to the top of Google search results.
Secret Strategies to get your content on Google's First Page
Upvote Your Quora Answer: Log in with different Quora accounts and give your answer a thumbs-up.
Share in Relevant Quora Spaces: Find Quora spaces related to your topic and share your answer there as a contributor.
Share on Niche Facebook Groups: Share your answer in Facebook groups that are focused on your topic.
Collaborate with Quora Contributors: Get in touch with other Quora contributors through email or messages. Work together to support each other's content by sharing and upvoting.
By following these steps, you'll gather upvotes and make your answer more visible. Once that happens, your answer will not only rank on Quora but also on Google.
The idea here is to guide people towards something long-term, like an opt-in page or a website where you can collect their name and email. This way, you can build a relationship with your audience.
Eventually, you can promote affiliate products to this audience. This might take a bit longer, but it's a solid and sustainable approach because you're building a list of interested people, or you can direct them to something you own.
Get Your Content First Page On Google Using YouTube
YouTube is huge, ranking second after Google in Alexa's rankings, with millions of daily visitors. It's a smart move to use this platform to send people to your opt-in page, where you can collect names and emails, or to your affiliate product or your own product page.
Let me break down how you can use the Ahrefs Keywords Research Tool to get your video on the First Page of Google through YouTube.
Ahrefs Keywords Research Tool gives you lots of keywords that can quickly rank on Google search results. For instance, if your keyword is 'Shopify,' you'll find other related keywords like 'Shopify 60-day trial,' 'Shopify exchange,' 'Shopify vs Oberlo,' and more.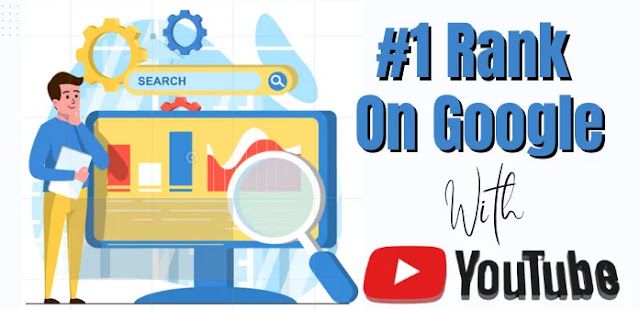 Get On Google's First Page Using YouTube:- Step-by-Step Process
Here's what you do:
Start YouTube Channel:- start a YouTube channel and create YouTube videos that answer these keywords in-depth, and then share your answers on Quora.
Call to Action:- Use a 'call to action' in your Quora answers, like a link saying, 'I've made a detailed video tutorial that answers this question. Click here.' When people click that link, they'll go straight to your YouTube video.
Include Affiliate link with keywords:-In your YouTube video's description, include your affiliate product link. You've made a video with keywords that Google likes, so there's a good chance it will rank high on Google's First Page.
This way, you can turn YouTube views into money by sending viewers to your affiliate links or opt-in pages. Plus, these videos stay online for a long time and can make money in various ways:
Promote affiliate products
Earn money from Adsense
Promote your products
Build an email list for email marketing
If you have a website, you can even send this traffic there.
In your follow-up emails, if you want to build an email list, you can direct people to affiliate links, whether it's digital stuff like courses or physical items like books. So, here are the key things to remember:
Research keywords using different tools and websites.
Create content based on the keywords people are searching for.
Get First Page Of Google with "Answer The Public" Site
Finally, I want to share one of my favorite tools for finding keywords called 'Answer the Public,' and the best part is, it's free. You just type in a keyword, like 'Shopify,' and it shows you all the related keywords people are searching for.
For instance, you'll see things like 'How Shopify works,' 'How Shopify payments work,' and 'How Shopify Drop-ships worldwide.'
This tool helps you figure out what kind of content people are interested in, so you can create content around those keywords.
You can make YouTube videos or write Quora answers that target these keywords, making them show up on Google search results easily.
Now, you don't need to go through the traditional process of creating and ranking your own website. Instead, you can take advantage of the traffic and visibility on popular sites like YouTube, Quora, and 'Answer the Public.'
So, you have options: you can send people to your own content on YouTube, or you can direct them to an opt-in page to collect their email addresses for email marketing if you want. Alternatively, you can send them straight to your affiliate links. It's all up to you.
Key-Elements for Higher Ranking on Google
1. Create Compelling YouTube Videos
Optimize Your Video Title: Start your video title with your target keyword (e.g., "How to Get on the First Page of Google").
Detailed Video Description: Craft a thorough and keyword-rich video description, including a link to your desired destination.
Tags and Categories: Utilize relevant tags and categorize your video appropriately. This helps YouTube understand your content and rank it effectively.
2. Create High-Quality Content
Deliver Value: Ensure your videos provide real value to your audience. Address problems, educate, or entertain.
Ideal Length: Longer videos tend to perform better, as long as they maintain viewer engagement. Aim for at least 10 minutes of high-quality content.
3. Promote Your Videos
Social Media Sharing: Share your YouTube videos on your social media platforms to increase visibility and engagement.
Embed in Blog Posts: If you have a blog, embed your videos in relevant articles to keep users on your site longer.
4. Establish a Strong Quora Profile
Complete Your Profile: Ensure your Quora profile is complete and includes a professional picture.
Show Expertise: Highlight your expertise in the niche you wish to target. Building trust with your audience is crucial.
5. Provide Insightful Answers
Keyword Optimization: When answering questions on Quora, incorporate your target keywords naturally. Avoid keyword stuffing.
Comprehensive Answers: Offer comprehensive, valuable answers that genuinely help Quora users.
6. Engage Actively
Participate in Discussions: Get involved in discussions, upvote useful answers, and provide thoughtful comments.
Follow Relevant Topics: Stay updated on trending topics by following categories related to your niche.
7. Cross-Promotion
Link to YouTube Videos: When answering questions on Quora, link to your relevant YouTube videos to provide more in-depth information.
Promote Quora on YouTube: In your YouTube videos, encourage viewers to visit your Quora profile for additional insights.
8. Consistency is Key
Regular Content Creation: Maintain a consistent posting schedule on both YouTube and Quora. This helps build authority over time.
Analyze and Adapt: Keep a close eye on the performance of your content and adjust your strategies based on what yields the best results.
Conclusion:-
You no longer need to create and rank your own website using traditional methods. Leverage the visibility of authority sites like YouTube, Quora, and Answer The Public to drive traffic, direct users to affiliate links, opt-in pages, or your own content—it's your choice.
In conclusion, by combining YouTube, Quora, and strategic keyword research, you can propel your content to the first page of Google, building your online presence and opening the door to various revenue streams. It's time to embark on your journey to Google's first page!
I hope you found this post, "How to Get on the First Page of Google Using YouTube & Quora" helpful and valuable. I'm confident that you've picked up some great insights on making money through affiliate marketing with Google.
Share your biggest takeaway from this post in the comments below. Whether you're planning to apply these money-making ideas to earn real money online now or in the future, I'd love to hear from you.
And, as always, if you enjoyed this post, please don't forget to share it with your friends. Stay tuned for more exciting money-making and passive income ideas coming your way soon.