Starting a blog can be one of the easiest ways to make money blogging from home in your spare time if you start a blog on WordPress or Blogger. You Building Lasting Wealth and Creating a Passive Income Solution That Generates Monthly Profits and Builds Valuable Assets for Life
Basically, being a blogger and blogging from home is different from any other job. Here you don't need to work 9-5 every day.
When you work as a blogger, you can choose when and what you do. You don't have to follow a strict schedule or feel compelled. However, you must keep in mind that blogging takes time and effort before you start earning actual money.
Although blogging has been around for years, many people are unaware of what it is and how to start a blog.
For instance, If you are interested in pursuing a creative outlet, building a following, and earning money from your home. Blogs are great for building an audience, teaching skills, making money online, and selling products, crafts, ebooks, and courses.
Yes, you can absolutely do it!
However, before starting a blog and following the creation process, let me define what a blog is. How does it work? How is it going to change your life forever?
What is a Blog?
Basically, A blog is an online platform and a discussion or informational website where new content is published, people are engaged, and a community is built. The reasons for starting a blog vary from blogger to blogger.
In other words, A blog is like a diary with informal text entries. A website typically displays posts in reverse chronological order, with the most recent post appearing at the top.
Moreover, the purpose of this post is to guide you through all the steps on how to start a blog for beginners to earn money.
Starting a Blog With The Right Mindset:-
So if you want to become a successful blogger don't jump into this field recklessly, start it properly with consistent efforts.You shouldn't quit your day job before you make enough money from your blog. Start part-time and then move to full-time once you are making some substantial money.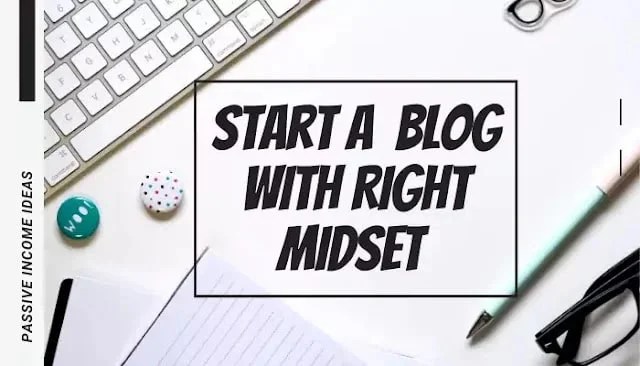 You should consider quitting your job and turning your blog into a full-time business when it earns you more than your comfortable limits and demands more attention and time.
Blogging is suitable for the people:-
This is a platform for those who enjoy sharing their knowledge and expertise and love to write.
A person with enough expertise and knowledge about a particular topic or niche.
People who want to work at home. Also, ready to learn all about blogging platforms and systems. Such as SEO, Keyword Research, Article Marketing, etc.
Self-motivated and self-reliant individuals who can persist in their work without the use of force.
Skills Required for Becoming a blogger:-
Having the ability to express knowledge and ideas in writing in a simple yet efficient manner.
A clear and effective language that can be understood by a wide audience.
Basic computer skills and knowledge of some blogging tools, such as email auto-responders, keyword research tools, and market research tools.
Time Required For Becoming A Blogger:-
It totally depends upon your level of expertise.
You can easily start a blog within a few hours if you already have experience and knowledge of blogging.
If you are a complete beginner, a day or two is plenty of time to learn and implement the this learning and starting a blog.
How to start a blog for Free and make money?:-
A blog requires you to invest money in hosting and domains. It doesn't cost much, but you still have to pay for a WordPress blog. But you also have other options, like Blogger, Medium, Tumblr, etc
You can start blogging with Blogger for free with the subdomain Blogspot. However, I won't recommend you to start blogging with a subdomain.
It's not a bad idea to start a blog on Blogger, but you'll need a domain to give your blog an individual identity.
However, if you are planning on using a blog as a career or lifelong business, you must create a WordPress blog. You must pay for hosting, domains, and other essential blogging tools and resources.
Top 4 Strategies Of Starting A Blog & Earn Money
The difference between a good blog and a truly great blog is its written content strategy. Defining your goals, researching your target market, creating a content calendar, and building amazing content are all part of that process.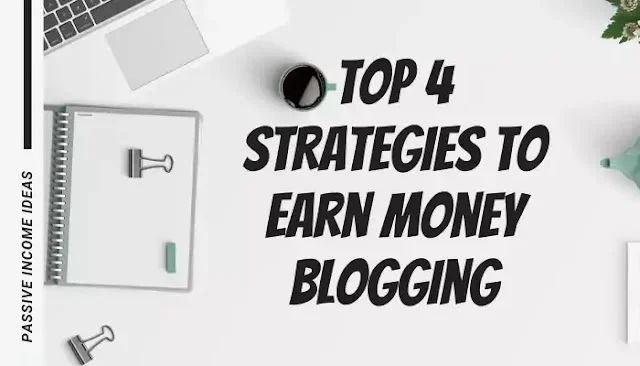 Take your blog as a serious business and only then will you be able to succeed. Consider these 4 basic elements or strategies of blogging as a guide to starting a blog and growing it naturally.
1. Always Start A Niche Specific Blog & Contents:-
Consequently, you should start a blog about a niche or topic you are really proficient at and you have enough expertise to share. For example, if you love traveling and you have visited a lot of places then start a travel blog.
Hence, always try to be stick to the niche of your blog. Don't just put contents of multiple topics from the various niche in one blog. For example, writing about traveling articles on a fashion blog or weight loss exercise advice on the money-making blog. This can damage your blog's specificity. Keep your blog niche-specific and always share relevant content on it.
2. Create Unique and Compelling Content:-
Therefore, try to create unique and valuable content that gives a lot of value to your readers. And it helps them to resolve their problems. As a result, Your readers should get a positive difference in their life from your shared information.
Read and reply to the reader's comments, try to resolve their issue, and solve the problems they are facing. Understand and read their mind what they looking for in your blog. And write a relevant blog post to them.
3. Starting a Blog with Consistency & Persistence:-
First of all, keep regularity & persistence when You Starting a blog. Develop a relationship with your readers. And, give your 100% to it. Also, You should be passionate about your blog.
Certainly, Give it your love and care, just like other passion, and feel excited and amazingly happy while doing your work, it will give you back, whatever you will give to it.
And think about content strategy, the tone of your voice, the preference of your audience, market demand, etc. Research the blogs of other people in your niche, and learn from them who already doing what you're planning to do.
4. Follow Professionalism:-
Therefore always follow the professionalism to manage and grow your blog. And, don't be negative or criticize other brands, people, or bloggers.
Also always focus on your strengths and uniqueness and try to keep improving yourself every day by some self-help books, For the reason that by learning from a successful blogger and by maintaining your consistency.
Above all, be open-minded and willing to collaborate with other creatives. You'll meet some fantastic and awe-inspiring people.
Remember you are unique and nobody can steal your uniqueness from you so believe in yourself, and God will take care of everything else itself for you.
10 Questions to Ask Yourself Before Starting A Blog
It is always a wise idea to ask yourself these questions before starting a blog.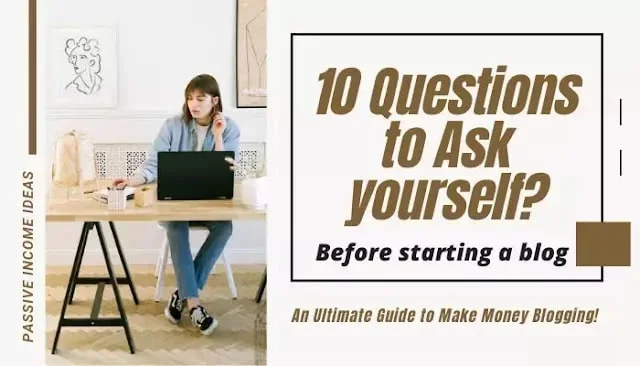 This will enable you to see what your actual passion, expertise, and marketing strategies will be for your blog so that you won't be confused when starting one.
Check out these top 10 questions to ask yourself…
Why should you start a blog, and what is the reason behind it?

To make money online
Becoming your own boss
Build a fan following or an audience.
To tell your story.
To express yourself as a writer.

What about you will write, Or What your Niche and topic will be?

Are you passionate about the topic?
Do you have knowledge or skills for that niche?
Is their enough people looking for your niche?

How will I stand out from the crowd and make my presence unbeatable?

Do you have plan for growing your blog?
Do you have unique strategy for the blog?

Who will be your target audience & market?
How much time you going to spend per day?
What values do the readers I can add which was missing till now?
What is my USP or unique selling point?
Do you have any marketing plans for it?
Do you have blog writing skills or you are able to hire a content writer?
Are you actually ready for it?
How To Start A Blog For Beginners & Make Money
Firstly, when I started blogging, my reactions were exactly the same as yours. A blog? What's that?
In fact, I am filled with a lot of questions, such as…
How can I be a blogger and make money blogging?
What's the purpose of setting up a blog?
How to start blogging?
how to write a blog
how can a beginner start blogging?
are bloggers getting paid?
Do beginner bloggers make money?
Can I make money from blogging?
What are the best blog sites?
Should I go for free blogging platforms or buy hosting?
Crap! What is web hosting? Bla Bla Bla…
At that moment, I was numbering a number of questions. And now I'm going to show you how to start a blogging website or how to start a blog.
By reading this post, you will eventually reduce your web searches for setting up a blog, finding a domain name, choosing web hosting, installing WordPress, and using various blogging tools to be successful.
Therefore, I'll help you take baby steps to start your own blog and write your first blog post. As a blogger. Don't worry. Even if you have no technical experience, you can start a blog. My step-by-step guide will show you how to start a blog and grow it!
So let's get started…
9 Steps For Starting A Blog & Make Money
If you want to earn money blogging you must follow these 9 steps for setting your blog for successful outcome, because the foundation is more important than the actual structure. so here are my 9 steps to setting a successful blog which actually makes money…
Choose Your Blog's Right Niche.
Signup for web-hosting & Set Up your Blog.
Install WordPress & Customize Your Blog.
Start writing your articles
Write A Great Persuasive & Appealing Headlines
Structure Your Post (Introduction, Headlines, Bullet Points, Conclusion)
Write Compelling Content and Develop Engaging Habits
Email List Building & Notification Updates Practice.
Monetize Your Blog For Earn Money Blogging.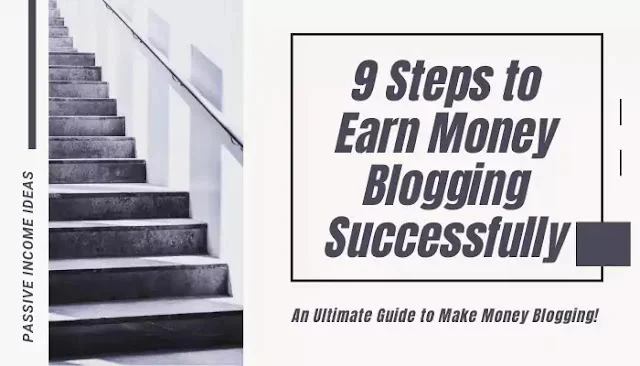 Step1:- Choose Your Blog's Right Niche:-
How will you decide what to blog about and what your niche should be? Thus, the answer is quite simple… It should be something you're passionate about, something that doesn't make you just money, something you're willing to blog about.
It is most likely that you will eventually quit if you are not enthusiastic about what you are going to do. So choose something that you love to blog about and know that there are a lot of people looking for it, such as clothing or fashion.
Make sure you do proper keyword research before doing this so that you can determine the size of your target market. So now you can create a blog about it. However, you should not select a niche that is too broad or too narrow, otherwise, you got that out of the way
Your Ideal Niche Should Be The Combination Of :-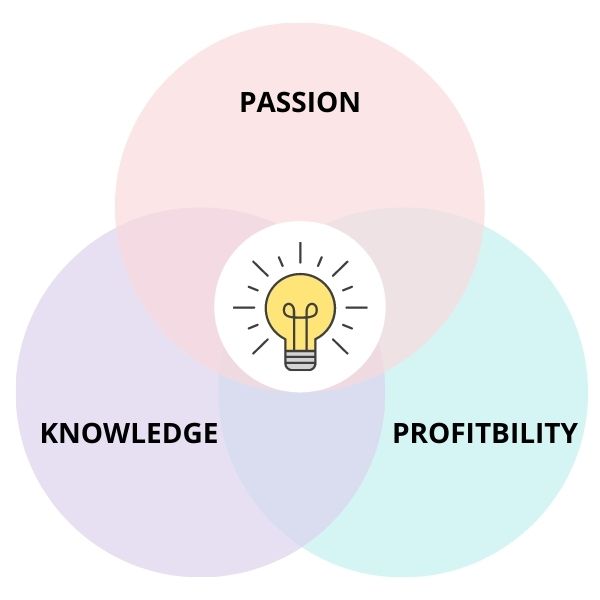 As a matter of fact, your niche is you and your expertise because your niche is based on you first and foremost; your life is your niche.
Brainstorm and consider your passion, skills, knowledge, and most importantly how you are going to monetize that niche. This will include your social following, your connections, goals, and marketing strategies.
A couple of blog niches that make money examples are:
Travel, RVing & activities blogs.
Mom & parenting blogs.
DIY (Jewelry, clothes, hair essentials, etc.
Pet health & training blogs.
Finance & business blogs.
Productivity + time management.
Lifestyle niche (with multiple topics).
Health + Beauty and Fitness blogs.
Technology Blog.
Education (writing, marketing, skills).
Home improvement, decor & organization blogs.
Any blogs that target hobbies with a passionate following such as fishing, golfing, gardening, cooking, etc.
Any blogs that solve specific problems or answer often asked questions.
Step2:- Sign Up For Web-Hosting And Set Up Your Blog:-
Website building platforms, like Wix Website Builder allow you to create your own Blog with hundreds of ready-to-use templates and themes.
However, I don't recommend you to go with them since you will have to pay a monthly subscription and won't have full control over your blog. Therefore, you should get a self-hosting account from a web hosting service provider.
You can use Bluehost, Hostgator, GoDaddy, whatever you want. My personal recommendation is Bluehost since it can be installed with one click, and then it's up and running without any technical knowledge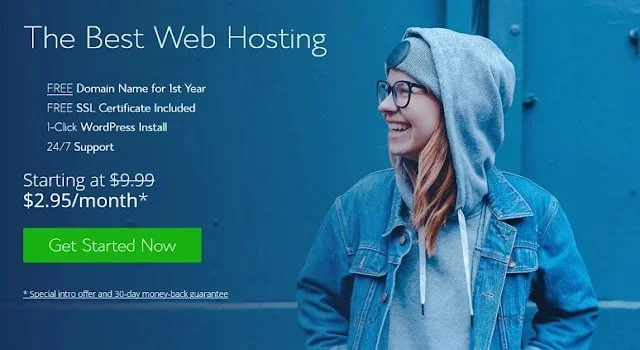 Once it's up and running you can even pick a cool-looking professional theme in the design, they'll give them to you, and then you can customize it.
Below is my favorite beginner web hosting setup with the best features for the lowest price…
Go to the Bluehost site (get a discount using this link) and click Get Started Now.
Choose a plan from the Plus Plan that meets your needs.
Enter the domain name you want to use (i.e. passiveincomeideas.com).
Fill out your account information.
You can choose a payment plan under Package Information, based on the length of your payment. (Remember, there is a 30-day money-back guarantee! so no risk)
There is no need for the Package Extras. Uncheck them.
Once your purchase is complete, you will be prompted to choose a password and log in to your Bluehost account.
Onboarding questions can be answered or skipped, but when prompted select "blog.".
If you're asked to select a theme, click "skip." (We'll figure it out later.)
Simply click on the WordPress button in the top right corner of Bluehost's dashboard.
Congrats! You have now successfully self-hosted your WordPress blog!
Why Start A Blog with Bluehost web hosting?
It is highly recommended by WordPress.org that Bluehost be one of the top web hosting companies. Over millions of websites have been successfully hosted by it, making it one of the top web hosting organizations.
With Bluehost, WordPress can be installed in less than 5 minutes. Oh, Yes! Currently, my blog is hosted by Bluehost, which is an excellent company. A number of functions are provided, customer support is responsive, and the price is very reasonable. On every plan, you can save more than 50%.
For newbies, learning WordPress, installing plugins, and choosing a theme can be challenging. Therefore, you have WordPress experts at Bluehost who can help you set up your website quickly and easily. And it's all for free.
Few reasons to get Bluehost Web-hosting:-
2 million websites are hosted on Bluehost.
It's recommended by WordPress.
Automatic WordPress updates
Free SSL certificate
One-click Automatic WordPress installation
Free domain name for 1st year
24/7 customer support to solve any problem
Best for new bloggers
Consider these other factors when choosing a name through a domain name registrar:-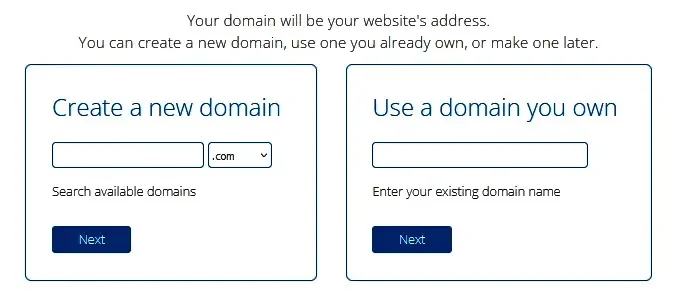 You should choose a domain name that is memorable and easy to type.
Keep the name easy to spell and pronounce so people won't be confused.
Your own domain should not contain numbers or hyphens, since they can confuse visitors.
Don't be too narrow with your domain name so that you can pivot to another niche if necessary.
Bluehost offers a FREE domain with hosting purchases made through this link. You didn't have to pay for the first year of the domain. After that, the charges are as usual.
Step3:- Install WordPress & Customize Your Blog
After Installing a WordPress Theme you need to customize it according to your blog's niche, but before doing it you need to consider some points choosing a theme…
Select a theme that looks professional and clean.
Select a theme that is mobile-friendly.
Your theme should be perfect for your niche.
After choosing a perfect theme you can customize your theme using your Logo, Banners, Social Media Links, Widgets, Plugins, Your Port-folio Images.
Read more:- Top Ranked Web Design Tools for Creating Stunning Websites
There is a free tool called Canva which solve most graphic design problem such as logo, banner, image creative, book cover, etc.

You also can customize your theme colors, font size, background, sidebar, etc. If you can do it yourself you can hire a freelance web designer on Fiverr who charges you only $10-$20 bucks or you can do it yourself. there are multiple videos available on Youtube for theme customization training.
Step4:- Start Writing Your Articles:-
Once you start writing your articles there are a few things you need to know…
If it's not appealing people aren't going to read it so think about it I'm writing this article about what I myself want to read if you don't, don't write it.
If other people also want to read it great so you have to be willing to read it and other people want to read it. So ask people just to talk to your buddies, friends, and people that hey would you like to read this article about men's fashion and how you can match colors, etc. all right sounds cool great then write it.
Step5:- Write Great Persuasive & Appealing Headlines:-
Now that you got your topic there are a few things you need to know first is your headline has to be appealing and eye-catching.
So go to and Copy other bloggers they have this headline writing formula, they'll teach you how to write a really persuasive headline, and they even give you a formula and a tool that you just have to plug and play keywords and you'll be able to create really cool headlines.
Step6:- Structure Your Post (Introduction, Headlines, Bullet Points, Conclusion):-
Therefore you got your headline outlines what your post is going to be about, just think about those high school days when you think to write the introduction, the body, and then the conclusion.
The body has subheadings so just write your introduction, and conclusion, add in your subheading and then fill the rest out, that's how you get started with writing your first blog post.
When you're writing your first blog post each paragraph can't be more than five or six lines if it's more than five or six lines, it's going to be too overwhelming for people. no one wants to read a ten-line paragraph it's just too much.
Step7:- Write Compelling Content and Develop Engaging Habits:-
Use the words we are familiar with within your blog post that way it becomes like a conversation where people like to interact and engage with you and they'll love to leave comments because your content is engaging.
You also can ask some relevant questions at the end of your post which will help you to create more curiosity and engagement because this way they leave more comments for replying to your question, and when they leave a comment respond to them.
Always be responsive in your blog post, if someone going to ask you a question, you would respond to them. But always try to back up to the main points you want to make and link any other cool blog posts that you think would benefit your readers.
And then start doing this on a consistent basis, you should write at least one post a week but ideally, you should be blogging three times a week over a course in six months to a year.
Step8:- Email List Building & Notification Updates Practice:-
Gradually you'll build up a big base of readers. As you build up a base of readers you can use a tool called Subscribers and Hello Bar, they're free. Hello, Bar offers email subscriptions where someone can subscribe to your blog by just entering their email and getting notified every time you release a new blog post.
And Subscribers let people know as they're browsing around on their computer in the browser that "hey you got a new blog post" and they should go back to your site so the people will start to keep coming back to your site.
Step9:- Monetize Your Blog For Earn Money Blogging:-
Therefore you can monetize your blog in a few ways you can put Google Adsense it's a quick way to make money from Google. Here Google will pay you every time someone clicks on one of the ads you placed on your blog using Google Adsense code.
You can also use affiliate links, there are sites out there like Clickbank in which they'll let you promote products and services within your space, and every time you generate a sale for someone else you'll get paid a commission that's called affiliate marketing that's a really simple way to start making money from your blog.
Read More:- How to Monetize Your Blog & Sites with Amazon Affiliate Links
Affiliate Marketing Amazon: Killer Top 10 Common Mistakes to Avoid
The third way to sell your own products or services is as Digital products like a video training course, Pinterest pin template designs, ebooks, recipe books, etc. physical products such as T-shirts, mugs, graphics, etc.
This will all start generating your income and if you want you can do a mixture of everything such as affiliate marketing and selling your own product together, and very soon you'll notice that your income will go up.
But just be patient and give it enough time for six months to a year before you really start making decent money from your blog because it's a real business and just like other businesses worthwhile it takes time.
Blog Monetization Strategies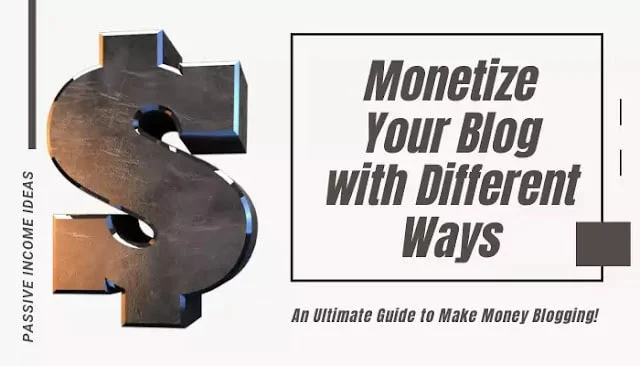 Actually, You can monetize your blog in many different ways. And can earn legitimate money online month after month. And the most common ways to monetize your blog are…
Starting A Blog On Blogger For FREE!
If you just starting your blogging career and don't have enough knowledge about How to run a successful blog. and don't want to invest much money here. then I advise you to start a Google Blog using your Gmail Account for FREE.
Google Blog offers a Free Blogging Service called Blogger and you can create your own Blog with your custom domain or Subdomain "blogspot.com" offered by the blogger for Free.
Hence, you need not spend any money on starting a Google blog on blogger, also you can give it a professional look by using customized free responsive blogger templates.
You also can earn money by monetizing Your blog with Adsense in a few clicks. as Adsense and blogger both are products of Google. So getting Adsense approval is quite easy for it.
CONCLUSION
In conclusion, starting a blog can be a great way to share your thoughts and connect with others. It can also be a way to connect with potential employers or clients.
If you are unsure about whether or not starting a blog is the right thing for you, consider talking to a blog coach or other online marketing experts.
Start A Passive Income Blog
7 Days Free email course you will learn how to be a profitable blogger right from Day 1. Learn everything you need to know about starting and growing your own blog. Sign up for FREE and get all lessons sent directly to your inbox
So, I hope you find them valuable content in this post "Starting A Blog:- Ultimate Guide to Launching a Money-Making Blog" Therefore, I tried to share as much information which can help you to start a blog in a perfect way and focus on all necessary elements while blogging.

Therefore, do share this post if you find it valuable and help other people to get this knowledge and start their success journey in the blogging business.