Dropshipping Business is one of the best online business options that can be started without investing a lot of money, time, or effort. It is also possible to convert this active income stream into a passive income stream.
Therefore, If you thinking about starting your own online eCommerce store. However, you aren't sure where to begin, what to sell, don't have any money to invest in products, or do not have space to store inventory. Drop shipping is the answer to all your problems.
Drop-shipping is a business model in which a business sells products without having any physical inventory. Customers place orders with the business through an online store or portal, and the business then ships the products directly to the customer's door.
There are many automation tools available, which can automate your whole process for earning consistent passive income. Also, dropshipping is a great option for businesses that don't want to take on the hassle of inventory management. Plus, it's a great way to build a customer base without having to invest in expensive marketing campaigns.
To start dropshipping, you first need to create an online store or portal. You can use an existing store or build your own from scratch.
What is Dropshipping Business?
Drop shipping is a business model where a business does not have to own or maintain any inventory. Instead, the business relies on customers sending products directly to the business. This eliminates the need for the business to purchase or warehouse products, and it also eliminates the need for the business to have any marketing or sales skills.
This can be a great option for businesses that do not have the time or resources to maintain a large inventory. Additionally, it can be a great option for businesses that want to avoid having to deal with shipping and handling costs.
The drop-shipping business model allows you to sell stuff online without ever holding the products. Your only requirement is a computer and an online store, along with a basic understanding of marketing and selling products online.
Dropshipping is a simple way to establish an online store and make money with virtually no effort. You simply choose the items you would like to sell, and a supplier will proceed with manufacturing, storing, packaging, and shipping them to your customers.
Therefore, you may find different dropshipping business models. Such as Amazon Dropshipping, eBay Dropshipping, Shopify Dropshipping, and Oberlo Dropshipping. let me explain this one by one…
eBay Dropshipping:-
eBay Dropshipping, It is possible to source a product from a supplier who ships the item directly to your buyers without having to handle it yourself. This is allowed on eBay. But your supplier must ship the item within eBay's deadline
Amazon Dropshipping:-
Fulfillment by Amazon (FBA) gives you the same benefits as dropshipping. This gives you more control over your brand experience. Amazon doesn't allow you to dropship otherwise, although people use that to flip eBay products on Amazon for profit.
Shopify Dropshipping:-
Shopify Dropshipping means you have your own store. but you are sourcing the products from a supplier who manages the shipping process on your behalf. just like eBay, here you have more control over your store.
Oberlo Dropshipping:-
Oberlo is not a selling platform but it is a dropshipping tool. Thousands of products are imported from various online platforms, including Aliexpress Dropshipping Site.
It works with Shopify stores perfectly and allows you to drop-ship a single product at wholesale prices. As a result, you won't have to warehouse inventory or deal with most of the challenges associated with running an e-commerce business.
Now some challenges that need to be considered when dropshipping are finding reliable suppliers with good quality products and ensuring that you have the visibility and fulfillment process of your customers.
4 Steps Of Dropshipping Business
Dropshipping is a business model where a small business owner sells products online without having to carry any inventory. This process is done by having a supplier ship products directly to the customer's address. You can start dropshipping with a very small investment, and the returns can be high since there is no need for a large up-front inventory.
There are a few key steps that need to be followed in order to start a successful dropshipping business…
Find the products from various wholesale suppliers online
List that product on your website at a price you set.
When someone places an order for that product your customer pays you the retail price you've set and you make a profit.
Then you'll place the order with your supplier at wholesale price and have it shipped directly to your customer.
Key Features Of Dropshipping Business:-
Drop-shipping is one of the most profitable passive income sources you will ever find online. When you drop ship, you can find trending products in the real market and sell them online to customers all over the world.
You can sell products in a variety of dropshipping niches,  from fashion to home décor to beauty. Here are some key features of dropshipping business…
The magic in dropshipping is that you create your own business and control how much you charge for the products. In Dropshipping you have the most control over your earnings.
Drop-shipping is really easy to scale because you can hire virtual assistants as your order volume increases of course
There are some challenges associated with drop shipping too such as a higher potential for competition.
That's the way most people advise you to start off with finding a niche audience like baby and mother or cat lovers. So that you can work with less competition.
Dropshipping is very easy to learn but there is still a learning curve and you will experience challenges along the way. although mistakes can become learning opportunities.
While there is a significant advantage over traditional e-commerce in terms of capital investment. Dropshipping is not free, you have to spend money to drive traffic, market your products, and handle returns.
There is no overnight success and it is not a get-rich-quick plan. Dropshipping still requires you to do consistent work for your store. True, you will have to spend less time than a traditional e-commerce business, but it will not be successful without your hard work.
Advantages Of Dropshipping Business:-
The dropshipping business model has many benefits and opportunities for those who want to start an online store business. But are stuck on investment sourcing and management.
Therefore, here are some key benefits for beginners who want to start their online journey of buying and selling goods.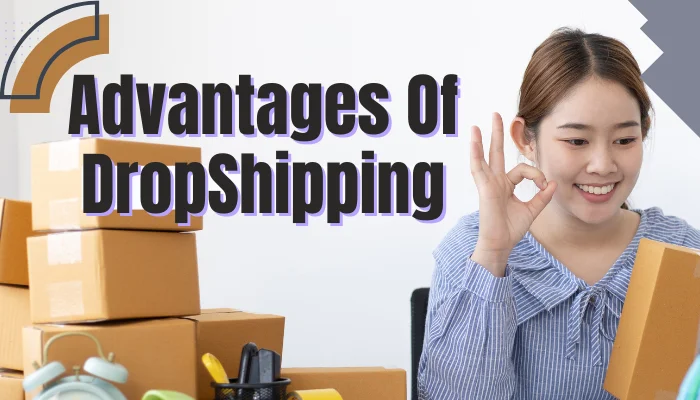 1. Dropshipping Business Is Easy To Get Started:-
Compared to other types of retail businesses, drop shipping is easy to start because it requires minimal capital. You don't need inventory, warehouse space, or staff assistance here. Furthermore, you won't have to worry about stocking or shipping.
You can start your business today or on the weekend. The process of setting up an online store only takes a few hours. You hear stories of people working for months before starting your business and wondering what could happen if you started today.
All you need is some basic knowledge which is pretty easy to gain and some tools and resources that will help you set up and run your store. The investment requirements are extremely low, and you do not need a business entity to get started.
2. Dropshipping Doesn't Require Inventory Upfront:-
Dropshipping means that whenever someone places an order on your website you can immediately purchase the product and have it shipped to their address. That is why you don't actually have any sort of inventory in your warehouse.
Then there is no need to manage a warehouse and figure out which product will work best if you don't require inventory upfront.
This is a good way to remove the risk of putting all the money upfront for start-up costs like inventory, and warehousing. you can test many products without investing in them.
The most popular ads are displayed on Google and other social media sites and drive visitors to your site. By doing this, you can easily find your winning products and drive more traffic and sales from them.
3. Dropshipping Business Is Scalable:-
Dropshipping is scalable because you do not need to make any changes to your business model as you scale. There is great potential for testing thousands of products and identifying winners.
Your daily activities to process more orders will remain the same as before as you grow, but you will need to focus more on sales and marketing.
Since you run your business on a laptop or PC, your infrastructure costs don't increase as you scale. So you can put all your time and effort into marketing your store.
The more you focus on promoting your business and providing the best customer experience, you will see your business grow rapidly.
4. Dropshipping is flexible:-
One of the biggest benefits of dropshipping is its flexibility. As you are your own boss so you can set your own rules like working hours, location, products, etc.
Here you can work from anywhere, you just need a laptop and internet accessibility. Your work time can be arranged according to your convenience. The business is perfect for those who want to be their own boss and have the freedom to work when they want to.
Dropshipping also gives you the flexibility to choose and list new products whenever you want. You can choose your marketing strategies, and adjust your job hours and holidays.
You can also use many automation tools that Will automate the whole process to generate passive income while you sleep or go away. There are huge possibilities and very few limitations.
5. Dropshipping Is Simple To Learn & Manage:-
Dropshipping is a beginner-friendly business. It is easy to learn because you are focusing only on sales and marketing. so there is very little hassle, no need for you to manage staff or rent warehouse space, etc.
If you are not good enough at setting up an online store and adding payment gateways. you can outsource this task to a freelancer who specializes in the task.
You can use the Overlo tool to find trusted suppliers and get everything set up. Once it's set up and running, all you need to do is focus on managing your online storefront.
Disadvantages Of Dropshipping Business:-
Dropshipping is a great way to earn money and test out products, but it does not come without some disadvantages. You should also be aware of some limitations and issues associated with this dropshipping business model.
1. Dropshipping Gives Less Control Over Quality:-
You won't be able to see or hold the product since you're ordering it from someone else. It's up to your standards if you want to make sure the product is appropriate and sent to the right people. If you outsource that and let someone else manage it for you, you really lose control over the process.
It is not uncommon for suppliers to make errors. There is always a chance that a supplier will send your customer the wrong product by accident.
Ordering samples of the products shipped to you is the key to fixing and resolving this problem. In this way, you can be sure the product is of good quality and will be delivered on time and look good.
The products can also be used to take photos that you can put on your website. Also, these photos can be used for advertising.
2. Dropshipping Take a Long Time For Shipping:-
Since many dropshipping suppliers are located in China. Shipping times are generally longer. This can take 3-4 weeks from China to the US. And in Amazon's 2-days fast shipping culture, 3-4 weeks really annoyed the customer, when products aren't there in a week.
Therefore, you will need additional customer support during those longer shipping times. In order to simplify the process, some customers have switched off ePacket. Although some orders may be easier to deliver in two weeks.
The shipping time is usually specified during the purchase process if you want it to be clear. Many visitors appreciate clarity, especially if you're selling an item in a location where delivery time is a little less important.
Now, a great way to get around this is to ship your products from suppliers based in the US or Europe who can ship them within 2-3 days. You can also find drop-ship suppliers in the US and Europe through Overlo.
3. Dropshipping Needs Additional Customer Supports:-
Dropshipping requires more customer support due to longer shipping times. and you end up with people asking for refunds if the quality of the products is not good enough. this can be a lot higher for dropshipping in comparison to other retail businesses.
You are just the store owner and you don't have a lot of control over the quality of products or shipping time. it is not easy to sort orders and handle customers when orders go wrong or suppliers fail.
You have to take the blame when your customers complain. If your suppliers have issues, taking responsibility and absorbing mistakes on behalf of your suppliers is part of the dropshipping business model. so you have to accept it.
If this happens don't take it personally and handle the return like a professional. Either order a new product from the supplier Make or offer a full refund.
4. Dropshipping Has Slim Margin :-
In the initial stage, dropshipping business marketing costs will be high and the profit margin will be slim. And here some niches are very competitive, where you have to be satisfied with small profit margins.
But, if you choose the right niche and market for the target audience, you are more likely to get wide margins. For this, you have to optimize the ads to increase the sales in high volume.
Ordering in bulk from their suppliers doesn't really result in a discount. But most store sellers offer huge discounts on bulk orders, so you'll have to do the same to compete. Therefore, your profit margin will be reduced anyway.
5. Dropshipping Has Some Order Processing Issues:-
Dropshipping seems to be very simple but still, you might run into some problems. There are different shipping solutions used by different suppliers.
Depending on your shipping setup, the cost of shipping can be prohibitive, especially when shipping multiple products. Different suppliers have different processing and billing structures that may be tricky or confusing.
Therefore, you should not work with too many suppliers. And Don't add too many different products to your store which can create Confusion.
Automate Dropshipping For Passive Income Streams:-
You need to manage and market your dropshipping store consistently if you are aiming to succeed. It is necessary for you to constantly search for new products and list them on your website.
You will need to find trustworthy suppliers, create photos, create content, and educate your customers. And, You have to have a  plan to drive traffic to your store.
You should create quality content for your store like attractive photography to be included in the product picture. Write great posts for your blog, your visitors love to know more about your products.
But still, there is a way by which you can automate your whole process and convert this active income source into a passive income stream.
Now you need to utilize some tools and resources that will help you do that. So there are some tools and resources to consider.
You can find suppliers on your own, but you can end up spending a lot of time researching and negotiating with suppliers to guarantee your customer satisfaction. Another option is using a tool like Overlo.
Overlo, with a few clicks, gives you access to millions of products to sell. It has dozens of features to make your life easier, including monitoring inventory levels automatically, calculating profit margins, fulfilling and tracking orders, monitoring shipping status, measuring delivery performance, etc.
Overlo also connects you with trustworthy suppliers of top-quality products. The shipping time is faster, and they offer great customer service. With thousands of options, you are sure to find what you are looking for.
Once you start growing, you won't have to worry about inventory, packing, or tracking. This will allow you to concentrate almost exclusively on marketing and promotion.
Millions of trending products are available to you instantly. They conduct continuous research to determine what will sell.
Shopify App Store provides all tools, plugins, and marketing solutions for automating your dropshipping business. So that you can earn passive income while you sleep.
The best tools and software you gonna find here…
Email, SMS marketing Tools.
popup subscription forms
latest products reminder tools
Hurry Up timer app
Discount coupon setting apps
Product Review Apps
Customer Service and Engagement Tools.
Multiple channels adding such as Facebook, Instagram, amazon, etc.
So here you can find hundreds of apps and software and you can use many of them at no cost. And most of them provide you free trial from one week to one month. You can test any app and choose which app you want to continue
Outsourcing For Dropshipping:-
Drop-shipping needs active participation in different day-to-day activities. So if you wanna make it a passive income stream, you need to outsource active workers for these tasks. You should outsource experts for all types of activities.
Outsource these experts here…
The best outsourcing site for finding professionals for dropshipping business is FIVERR. Here you can find all the services you want for your dropshipping business starting from $5 only.
Getting Started With Dropshipping Business:-
Now is the time for getting started with your store with step by step setup tutorial so that you can build a beautiful online store on Shopify easily.
Therefore, one of my friends "Simon" created an easy-to-understand step-by-step video tutorial for helping you in the process. please go through this training while creating your store. Also, follow all the steps completely, don't miss any.
So now if you have made up your mind to start a dropshipping business. You must be thinking to yourself how do I get started, here is a 5 step process to do so…
Create Shopify Store:- Join Shopify eCommerce Store creation platform with the 14-day free trial, Install your favorite store theme, you can use any Free or Paid theme from Shopify or import your own customized theme. 
Customize Your Store:- After installing your favorite theme just customize the Banners and Menu-bar. and connect your custom domain
Install Overlo App:- Go to Shopify App Store and Install Overlo App, on your store.
Products Listing:- Find the products you want to sell from the Overlo App and add them to your store. customize title, description, pricing, etc.
Enable Payment Gateway:- Shopify Payments is a great default option if your subsidiary enables over a hundred payment gateways integrated into one of the countries or a few other gateways, such as PayPal, Apple Pay, Amazon Payments, or Shopify.
Customize Shipping:- You must customize shipping rates according to country. 
Install Apps From Shopify App Store:- You should now visit the Shopify App Store and install useful apps like email marketing integration, coupon code generator, hurry-up timer, etc. Now your store is ready to be launched.
Conclusion:- Final Advice
Now that you have learned a lot about dropshipping. Yet here are some points worth remembering when you start your dropshipping business.
You will always need to put in the time to improve your business. and most importantly, not being a source of copyrighted items is illegal all over the world. And could land you some serious trouble.
My advice is to choose products from Overlo suppliers. And network with reliable suppliers who make it. this way you can rest assured that you will not violate any copyright law.
If you are a complete beginner, start small with a single product or a handful of complimentary items from the same supplier. you can always add more inventory as you get comfortable.
It is better to start small and build bigger than to start big and get overwhelmed. Diversify into multiple drop shippers once you are comfortable with drop-shipping.
Don't rely on a single store for your entire income stream. Operate a chain of stores targeting different locations to create multiple sources of income.
So now your Shopify store is ready to run online, keep all points in your mind and start your online dropshipping journey today. my wishes to you "best of luck".
I hope you will find this post "DropShipping Business:- How to Start Drop-Shipping Like a Pro?" useful and valuable. please do share this post with your friends and spread the knowledge.
Thanks for being here, make it a great day.