Hello there, Are you looking for some digital products to sell? Certainly, The ease of generating passive income from digital products has become increasingly popular among businesses and freelancers in recent years.
Almost 60 percent of people are online today, so finding the right digital products to sell will allow you to reach a huge market. Now is the time for you to join the digital product revolution!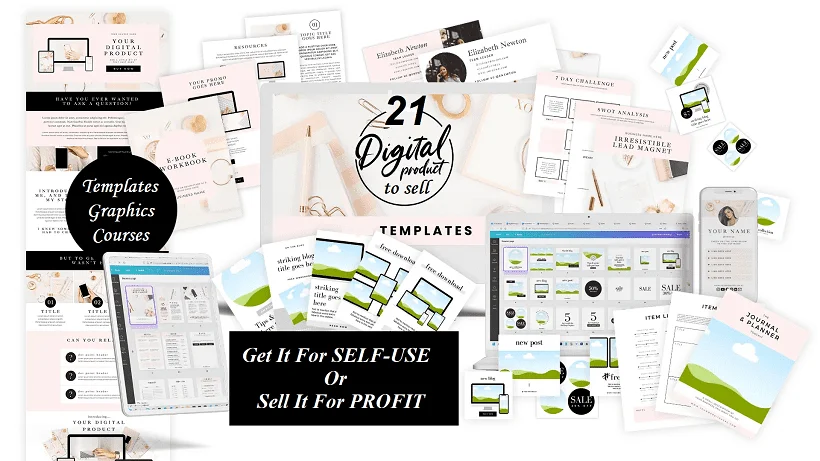 You can create digital products worth selling with just a computer, a mobile device, and an internet connection. It is not necessary to have physical materials, a factory, or a large staff to make this happen. 
You should know if you are a smart entrepreneur that selling digital products has many advantages over selling physical ones. One of the biggest advantages is the potential for high-profit margins!
Would you like to know what digital products are the most popular among online sellers? So you are at the right place, here you will find everything you need.
Most Popular Digital Products To Sell Online
Basically, here are some digital product ideas and inspirations to get you started. The following is a short list of the top digital products you can sell online. Therefore, you can categories these into 4 basic terms.
Downloadable Digital Products
Web-Based Applications
Cloud-Based Design Apps
Professional Services as Products
Downloadable Digital Products To Sell
eBooks/ PDF Files:-
These are electronic Books and digital Files for readers. This is one of the most popular digital products to sell. The process of creating them is relatively straightforward since they only require a few images and some written text.
(BECOME A SELF-PUBLISHED EBOOK AUTHOR – Join Ebook Bestseller Bootcamp)
Software & Mobile Applications:-
The most common types of software include WordPress plugins, elements, themes, mobile apps, fitness apps, project management apps, video games, Windows Apps, Mac Apps, Linux Apps, iPhone Apps, Android Apps, Web-based apps (SaaS), etc.
Graphic Designs and Digital Art:-
There is a wide variety of products that can be produced by graphic designers and artists. There is a huge customer base available when you sell digital files. For example Logos, Templates Designs, Brand kits, icons, swipe files, elements, etc.
Sell Digital Files on Esty:- Become Esty Superstar
Fonts Style:- Creating and distributing fonts is easy and can be done through websites or via desktop applications such as Word and Photoshop.
Audio And Music:- The purpose of audio files is to entertain, soothe, inspire, inform, and help individuals achieve their business objectives. Such as recorded lectures, musical samples, audiobooks, relaxing background noises, copyright-free sounds, etc
Photography:- Premium-quality photos have become a very popular digital product. Bloggers and website owners are among the largest consumers of online photographs.
Video:- Online information can be delivered effectively and efficiently via video. You can use content to educate, inform, or entertain your audience. Create stunning videos using these most recommended video editors.
Training & Courses:- Similar to other digital products, courses can be sold on the internet. Some online businesses specialize in selling online courses. Their complementary use is also widespread among businesses.
Web-based Applications (SaaS):-
A web-based application is similar to software, except that it can be accessed online without downloading or installing anything onto your device. Instead, the software is accessed through a web browser.
SaaS (Software as a Service) is another name for this type of software. In some ways, these businesses do not constitute "digital products" in the true sense. But they can be sold in a similar way and are used and perceived similarly by customers.
Some examples of these types of digital services are…
Storage:- Dropbox, iCloud, Google Drive, MediaFire
Music:- Spotify, Apple Music
Email Automation:- MailChimp, GetResponse, ConvertKit, Brevo
CRM:- HubSpot, Salesforce, Nutshell, Pipedrive
Learning:- Udemy, Teachable, LinkedIn Learning, Skillshare, Coursera
Cloud-Based Design App Templates
A number of web-based (cloud) design applications are gaining popularity, such as Canva and VistaCreate. Whether you're a professional or non-professional, these apps will allow you to create beautiful designs using only a web browser. It's a great choice for beginners.
Millions of people use them. there are some examples of these types of digital products.
Edible Resume Templates
Social media post templates
lead magnets
ebooks cover designs
planners & journals
business brand kits
Business Bundle Templates, etc
Sell Professional Services As Digital Products
Services are often referred to as "products". Although, it is possible to sell them in the same manner as digital products. As an example, you might sell a premade logo at a defined price that you call a digital product. Similarly, you sell a service that makes a customized logo design for a client for a predetermined price.
A service-based job is one where you receive a specific result in exchange for your time. This is a bespoke product, customized to only that customer, so you may be selling your time for it.
Furthermore, it is advisable to use the Easy Digital Downloads plugin to sell digital products on WordPress. And, over the past year, Easy Digital Downloads has seen a three-fold increase in the number of people selling services.
Therefore, you will find a list of professions that can be sold as online services below:-
Graphic designers, web designers
Social media managers, Virtual assistants
Consultants, Trainers, Coaches
Community managers
Copywriters, Translators
Legal professionals, etc
These were only some ideas of these types of digital services, you can find many more ideas on the site "Fiverr". This is the best site that offers professional services as digital products. Also, you can sell your service on this platform or ask for any service you are looking for.
My List Of Profitable Digital Products To Sell Online
We put together a list of the most lucrative downloadable & profitable digital products that you can sell online or use in your own projects. Our list of the most profitable digital products is perfect for anyone looking for a side hustle or looking to start an online business.
You can use these digital products for personal use or sell them online to make money. For creating or developing your own digital projects, these ready-to-sell products are very helpful.
Additionally, you can list these digital products on your blog, web-store for resale and earn a 30%-50% commission by selling them through your own store.
As expected, you'll find all the links and resources you need in this post itself. Now let's go into all the details and features you'll see.
21 Ready To Use Downloadable Digital Products To Sell:-
Most of the products on this list can be created within a week with step-by-step training. In contrast, you can earn commissions by selling these products as an affiliate.
Basically, this bundle is specifically designed to meet the needs of small business owners. And you can easily use the templates for your own business!
For this purpose, they are fully editable, so you can match their colors, typography, and photos to your branding! Also, you will receive extensive training to boost your confidence in Canva and speed up your product creation!
So What DoYou Actually Get?
146 Editable Canva Templates…
x15 Pinterest pins
x10 Facebook banners
x20 workbook templates
x60 lead magnet templates
x10 email newsletter headers
x30 challenge social media posts
x1 challenge landing page template
Bundle Templates "The Challenge Toolkit" A collection of 146 CANVA templates that are fully editable.
THESE ARE SPECIFICALLY DESIGNED TO MAKE YOUR NEXT CHALLENGE STAND OUT
Fast-track your digital product business with 355 fully editable CANVA TEMPLATES.
Actually, this includes a commercial license for editing and reselling in CANVA or PDF form. And, the license allows you to resell 30 Pinterest base templates and 30 social media base templates.
Moreover, There are 100 planner templates and 50 eBook templates in PDF format that you can resell with commercial rights.
PROMO TEMPLATES INCLUDES
145 Promo templates only for personal & professional use.
x60 lead magnet templates
x25 product promo social posts
x3 email signatures
x1 quick links landing page
x10 email newsletter headers
x25 product promo pins
x10 preorder social posts
x10 facebook group banners
Also, with this bundle, you'll get a tutorial on how to edit CANVA templates. A bundle of 20 professional stock images – not available in Canva!
This collection contains 385 full-editable CANVA templates designed specifically for course creators to grow their businesses. Additionally, you'll receive a CANVA video tutorial with this bundle so you can learn how to edit the templates.
These templates were designed by a professional designer, who has created beautiful designs on the web for over a decade. Moreover, she has a clear understanding of what makes a brand successful.
So What Do You Actually Get?
39 workbooks, and 60 lead magnet templates
10 module covers, 25 event covers
The 60-page slide deck, 1 sales page
1 quick links landing page
100-page business plan, 45-course launch posts
x30 social media posts, 10 group banners.
x3 email signature templates
These templates are completely editable, so you can change the colors, typography, and photos to match your brand!
Moreover, our partnership with an incredible photographer brings you 20 stunning stock photos – not available on Canva!
In fact, selling legal page templates is a great way to profit from your expertise as a lawyer. Alternatively, you can hire a lawyer For creating these types of templates for you for selling online as digital products.
Actually, when someone starts an online business, it is important to protect that business legally. A legal page template represents an online business as being legal and free from legal infringements.
There are VERY important legal pages, such as privacy policies, disclosures, and terms and conditions, which are required by law.
Therefore, you can design a legal bundle template specifically for bloggers, entrepreneurs, coaches, and small business owners who need legal protection!
Every blogger and entrepreneur needs to own this product.
In fact, legal pages are crucial for your business and should not be overlooked. Below you will find my most popular legal bundle templates that sell like hotcakes.
On-Demand Legal Pages Templates List
Therefore, we offer some other on-demand templates for all online business owners such as…
Now, Let me know Do you want to sell this digital product in your store? To promote your favorite legal template, let me know here "babita@passiveincomeideas.org "which one you want to promote from the 26 templates mentioned above. Moreover, you can choose multiple templates from the list.
Develop a beautiful eBook to drive traffic to your business on autopilot while positioning you as an expert in the booming education industry.
A set of 110 fully editable CANVA TEMPLATES to speed up the creation of your e-book. This bundle is for those who want to create a book, or for those already selling ebooks.
However, they would like to save time making them and achieve profits as quickly as possible.
So What Do You Actually Get?
x50 ebook Templates
x25 product image templates
x25 Pinterest pins
x10 Preoder graphics
CANVA Template Editing Training Video
20 Professional Stock images.
This can also be useful for coaches who want to create a downsell or low-ticket product. This will create an amazing lead magnet if you are a business professional looking to grow your mailing list or group.
This is an amazing digital product you can offer your customers.
Blow up your group's engagement with 340 fully editable CANVA TEMPLATES.
All the templates can be customized with your branding colors, typography, and photos, so you can make them your own in no time!
So What Do You Actually Get?
x25 group banners
x20 viral games
x10 testimonial templates
x100 engagement posts
x100 social media quotes
x10 tip templates
x20 infographic templates
x30 group social posts
x25 event covers
Here is a video tutorial that will teach you how to edit any Canva template with step-by-step instructions. In addition, you'll get 20 professional stock images to use in your projects.
If you have always wanted to create a beautiful planner or journal but didn't have enough time to do it. Or you're nervous, you might not know where to begin with your design!
Thus, The Journal & Planner Creator can help you solve your problem. You can easily create your own planner or journal in an hour.
Customizable – change colors, fonts, & images to suit your brand. The package includes 100 beautiful pages that can be edited and customized to suit your needs.
What Are You Actually Going To Get?
We have hand-picked 100 premium templates to help you create attractive and sellable digital products.
Limited Commercial license included, you can sell printable PDFs made from the file.
You can sell printed copies of your planner.
It is not allowed to resell or redistribute Canva files.
Includes bonus 20 high-quality professional stock photos.
Canva file editing training video tutorial.
This is the ultimate bundle for fast-tracking product creation (and your success) – whether you plan to sell as a printable file, gift to your clients, or create planners for Amazon.
Lead magnets are an incredibly effective marketing tool but can be time-consuming to produce. Our 170 FULLY EDITABLE CANVA TEMPLATES are designed to create the ultimate lead magnets that will help grow your business.
So What Do You Actually Get?
170 CANVA-Based Editable Templates…
x50 ebook templates
x60 lead magnet templates
x25 social media posts
x10 Facebook banners
x25 Pinterest pins
Canva Editing Tutorial Video
20 Professional Stock Images
If you are a business professional looking to grow your mailing list or group, you should create an amazing lead magnet. Lead Magnet Creator can help you accomplish this.
There you'll get 271 fully editable CANVA templates specifically designed for your course or program launch. Each template is completely editable, so you can easily customize your logo, colors, typography, and photos to fit your brand.
So What Do You Actually Get?
x1 sales page
x60 lead magnet templates
x30 social media templates
x45 launch social media templates
x10 email newsletter templates
x25 event covers
x10 facebook group banners
x15 Pinterest pins
x20 workbook templates
x3 email signatures
Furthermore, you will receive 20 professional stock images and a training video to help you learn how to customize your templates in Canva.
Take your network marketing to the next level with stunning branding and content. So we have designed 451 FULLY EDITABLE CANVA templates specifically targeted at network marketers to help them grow their businesses.
So What Do You Actually get?
x5 event covers
x80 social media posts
x10 Facebook banners
x20 viral game posts
x30 notification posts
x100 engagement posts
x100 social media quotes
x60 slide deck templates
x1 quick link website
x1 business card template
x10 printable cards
x3 email signatures
x60 lead magnet templates
Content, branding, social media, printable cards, & so much more! An editing tutorial for templates and 20 stock images are included as a bonus.
Let us help you make your next presentation much more effective with 110 CANVA templates! The bonus package includes an editing tutorial and 20 stock images.
So What Do You Actually Get?
x60 page slidedeck template
x4 group banners
x20 social media posts
x10 newsletter headers
20 professional stock images
Canva Editing Guide Video
There are 161 fully editable Canva templates designed specifically for YouTubers looking to grow their businesses.
So What Do You Actually Get?
x3 email signature templates
x15 media kit templates
x25 proposal templates
x12 youtube thumbnails
x40 Instagram posts
x10 youtube banners
x6 youtube end tags
x10 email newsletter
x40 youtube Pinterest pinsx1 challenge landing page template
x60 lead magnet templates
x15 Pinterest pins
x10 Facebook banners
x10 email newsletter headers
x30 challenge social media posts
x20 workbook templates
Canva templates tailored to grow the business of the virtual assistant with 355 fully editable templates.
So What Do You Actually Get?
x50 social media posts
x10 event covers
x21 services & pricing templates
x22 highlights
x60 lead magnet templates
x10 email header templates
x16 roadmap template
x31 welcome pack templates
x1 website template
x100 page business plan
x30 notification posts
x3 email signatures
x1 mini links page
This Toolkit has 512 fully editable CANVA templates designed specifically for coaches who want to grow their businesses.
So What Do You Actually Get?
x15 Pinterest pins
x45 launch social media posts
x30 brand social media posts
x10 email newsletter headers
x25 event covers
x20 challenge templates
x60 lead magnet templates
x1 sales page template
x1 quick links template
x60 slidedeck templates
x39 workbook templates
x16 roadmap templates
x31 onboarding templates
x21 pricing templates
x100 social media quotes
x3 email signatures
The set contains 176 fully editable CANVA TEMPLATES along with Canva editing tutorials and 20 professional stock images.
So What Do You Actually Get?
x61 logo templates
x10 mood board
x1 gift certificate template
x1 loyalty card template
x3 email signature templates
x100 social media quotes
x1 mini links template
x1 thank you card
x2 business card templates
x10 brand guidelines
A collection of 315 FULLY EDITABLE CANVA templates specifically created to help businesses improve their social media presence.
So What Do You Actually Get?
x100 social media quotes
x50 social media templates
x30 notification posts
x22 insta highlights
Pinterest board cover, banner + profile image
x20 Linkedin Banners
x15 facebook group banners
x54 Carousels
With the bonus of 20 high-quality professional stock photos, you will receive a video tutorial on how to edit files in Canva.
It includes everything you need to get started building your email list with Kartra.
Featuring professionally designed pages, email scripts written by experts, and over 285 matching Canva templates, this kit is perfect for beginners.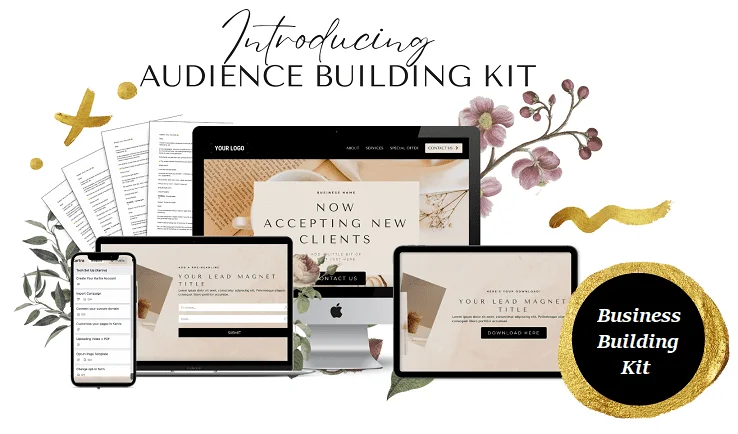 What's Included?
A step-by-step tutorial for setting up your Kartra account for total beginners.
7 Professionally Written Scripts.
Opt-In Page To Gather Email Addresses.
Project Steps Trello Board.
An Integrated Kartra Template for One-Page Websites
155 Brand Bundle Canva Templates
Social Signature Canva Templates
Engagement Bundle Canva Templates
Dedicated Portal with BONUS Audience Building Workshop
You'll no longer struggle with inconsistent branding across your website, social media, and lead magnets. It's all done for you.
Make your business stand out with 15 gorgeous template bundles. Would you be interested in investing in the only template bundle you'll ever need?
Your branding and business resources will be so much easier to manage with this large collection of beautifully designed templates that can be completely edited.
So What You Will Actually Get?
The Course Creator Bundle (385 Templates)
The Challenge Toolkit (146 Templates)
The Coach's Toolkit (512 Templates)
Live Launch Bundle (217 Templates)
The Brand Bundle (176 Templates)
The Virtual Assistant Bundle (355 Templates)
Group Engagement Bundle (340 Templates)
The Digital Product Creator Pack (355 Templates)
Lead Magnet Creator (170 Templates)
Presentation Bundle (110 Templates)
The Youtube Bundle (161 Templates)
The Journals & Planner Creator (100 Templates)
The eBook Creator (110 Templates)
Social Signature Bundle (315 Templates)
The Network Marketers Bundle (481 Templates)
Note:- Some templates are common in most of the template bundles.
You will get permanent access to a growing library of templates – any new templates will be added automatically to your portal. Plus, you'll receive a CANVA Template Editing Tutorial and 20 professional stock images.
Conclusion:-
In conclusion, you know what to sell on your store online. you can first choose the most suitable digital products to sell. Your creativity can lead to a unique product you can market.
Now is the time to get started! You will find plenty of resources and ideas on our blog for online creators like you. Therefore, you can choose multiple products from here to sell in your own online store.
In this way, your business can grow quickly, and you will be able to create your own digital products over time.
Now, I hope you enjoyed the "17 Downloadable Digital Products To Sell Online or For Self-Use" post, and found it valuable.
Do share this post with your friends so that they can get these incredible digital products or sell them on their websites to make passive income online.