Hey there, my friends! Today, we're diving into the world of digital marketing and exploring the top Fiverr gigs for digital marketers that can skyrocket your online business.
Fiverr is a treasure trove of freelance services that every savvy digital marketer should tap into to enhance their brand's online presence and achieve remarkable success. So, let's unravel the magic of Fiverr and uncover why it's a game-changer for your marketing endeavors!
In the fast-paced world of digital marketing, staying ahead of the competition is essential. As a digital marketer, you often find yourself juggling multiple tasks, from content creation to social media management and everything in between. This is where Fiverr, a renowned online marketplace for freelance services, comes to the rescue.
Fiverr offers a diverse range of talented freelancers who can help you streamline your marketing efforts and elevate your brand's online presence.
In this comprehensive guide, we will explore the top Fiverr gigs that every digital marketer should consider to enhance their marketing strategy.
From graphic design to SEO services, video production to content writing, we will recommend the best gigs available on Fiverr to maximize your marketing impact.
What is Fiverr Gigs & Fiverr?
Fiverr is an online platform that connects freelancers offering various services, known as "sellers" or "gig providers," with individuals or businesses seeking those services, known as "buyers" or "clients." Each service offered on Fiverr is referred to as "Fiverr gigs."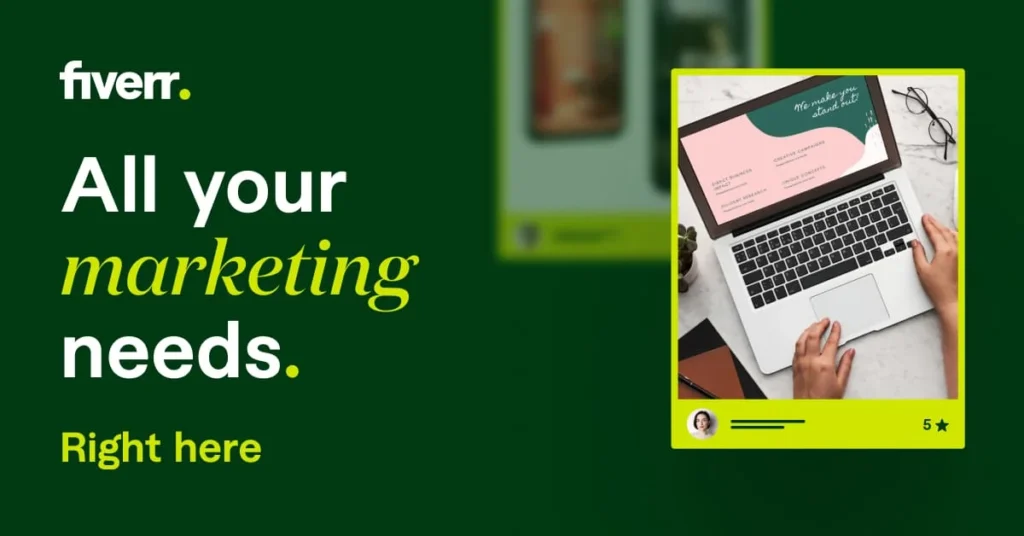 Fiverr Gigs represent the individual services or tasks that sellers offer on the platform. These gigs can range from graphic design, writing, video editing, programming, digital marketing, and many other professional services.
Sellers create fiverr gigs that describe the scope of their services, the pricing, delivery time, and any other relevant details.
The name "Fiverr" originally stemmed from the platform's initial concept of offering services starting at $5 (hence the "Fiverr"), but over time, sellers have been able to set their prices at different levels depending on the complexity and value of the services they provide.
Both buyers and sellers can browse through Fiverr's marketplace to find services that meet their needs. Once a buyer finds a gig they are interested in, they can place an order and pay for the service through the platform. After the gig is delivered and completed by the seller, the buyer has the opportunity to provide feedback and rate the seller's performance.
Who are Digital Marketers?
Digital marketers are professionals who specialize in promoting products, services, or brands through various online channels and strategies.
Their primary objective is to reach and engage a target audience, drive traffic, generate leads, and ultimately convert potential customers into loyal clients.
The field of digital marketing encompasses a wide range of techniques and platforms to achieve these goals effectively. Some common roles within the realm of digital marketing include…
Social Media Managers: They handle social media accounts for businesses or individuals, creating content, engaging with followers, and managing social media advertising campaigns.
Search Engine Optimization (SEO) Specialists: Their focus is on optimizing website content to improve search engine rankings and organic visibility.
Content Marketers: Content marketers create valuable and relevant content, such as blog posts, articles, videos, infographics, etc., to attract and engage the target audience.
Email Marketers: They design and execute email marketing campaigns to reach potential and existing customers, driving engagement and conversions.
Pay-Per-Click (PPC) Specialists: PPC specialists manage online advertising campaigns, often using platforms like Google Ads, to drive traffic and conversions through paid search and display ads.
Digital Advertising Managers: They oversee various online advertising efforts, including display ads, social media ads, video ads, and other forms of digital advertising.
Analytics Managers: These professionals analyze digital marketing data, extract insights, and make data-driven decisions to optimize campaigns and strategies.
Inbound Marketers: Inbound marketing focuses on attracting customers through content and interactions that are relevant and helpful, often using techniques like SEO, content marketing, and social media.
Affiliate Marketers: Affiliate marketers promote other people's or companies' products and earn a commission on sales generated through their affiliate links.
E-commerce Marketers: E-commerce marketers focus on promoting and optimizing online stores to increase sales and revenue.
Digital Strategists: Digital strategists create comprehensive plans and strategies that integrate various digital marketing channels to achieve specific business goals.
Digital marketers need to stay up-to-date with the latest trends, tools, and changes in digital platforms and consumer behavior to be successful in their roles.
The digital marketing landscape is continually evolving, and successful marketers are adaptable and data-driven in their approach to drive meaningful results for businesses or brands.
30+ Fiverr Gigs for Digital Marketers
Ultimate resource for digital marketers – "30+ Fiverr Gigs for Digital Marketers!" Whether you need eye-catching graphics, engaging content, or top-notch SEO services, this list has got you covered.
Explore the best freelance services on Fiverr to take your online business to new heights!
Visual content plays a pivotal role in capturing the attention of your audience. Whether it's creating eye-catching social media posts, designing stunning website banners, or crafting captivating infographics.
Fiverr has a plethora of skilled graphic designers to bring your ideas to life. Look for designers with a strong portfolio and positive reviews, ensuring they align with your brand's style and vision.
Recommended Fiverr Gigs…
Find a designer who specializes in creating graphics tailored to various social media platforms, optimizing them for maximum engagement and shareability.
Invest in a unique and professional logo that represents your brand's identity and sets you apart from the competition.
Visualize complex data and information through compelling infographics that are shareable and informative.
Content remains the backbone of any successful digital marketing strategy. High-quality and engaging content drives traffic, boosts SEO rankings, and nurtures relationships with your audience.
On Fiverr, you can find experienced writers who can cater to your niche and deliver content that aligns with your brand voice.
Recommended Fiverr Gigs:
Hire writers who can craft well-researched, SEO-friendly blog posts and articles that provide value to your readers and establish your authority in the industry.
Ensure your website copy is persuasive, informative, and optimized for conversions with the help of skilled copywriters.
Enhance your product pages with compelling and persuasive product descriptions that encourage sales.
Videos have become an indispensable part of digital marketing, providing an effective way to engage with your audience.
Fiverr offers a vast array of video producers and animators who can create captivating video content for your marketing campaigns.
Recommended Fiverr Gigs:
Communicate complex ideas concisely through engaging explainer videos that captivate and educate your audience.
Enhance your social media presence with attention-grabbing video ads that entice your target audience.
Add a touch of dynamism to your brand identity with animated logos that leave a lasting impression.
Managing multiple social media accounts can be time-consuming. Delegate the responsibility to experienced social media managers who can curate content, engage with followers, and maintain a consistent online presence.
Recommended Gigs:
Hire experts to curate relevant and engaging content that aligns with your brand's values and interests your followers.
Streamline your social media strategy by outsourcing the scheduling and posting of content across various platforms.
Ensure your audience feels heard and valued with professional community managers who respond to comments and messages promptly.
Search engine optimization (SEO) is crucial for gaining visibility and attracting organic traffic to your website. Fiverr boasts a range of SEO experts who can optimize your site and content for better search engine rankings.
Recommended Fiverr Gigs:
Find freelancers who excel in identifying relevant keywords and long-tail phrases that align with your target audience's search queries.
Optimize your website's structure, meta tags, and content to enhance its visibility to search engines.
Increase your domain authority and improve your search rankings with effective backlink-building strategies.
Audio content adds depth to your marketing efforts, making it easier for your audience to engage with your brand. Look for professional voiceover artists and audio producers to create high-quality audio content.
Recommended Fiverr Gigs:
Grab your listeners' attention with a captivating podcast introduction and leave a lasting impression with an unforgettable outro.
Turn your written content into audio form with skilled narrators who can bring your books and guides to life.
Enhance your brand's recognition with catchy jingles and incorporate sound effects into your marketing campaigns.
Your website is the face of your brand in the digital world. Ensure it reflects your professionalism and offers a seamless user experience by hiring talented web developers and designers.
Recommended Gigs:
Create an aesthetically pleasing and user-friendly website that aligns with your brand's identity and captures the attention of visitors.
Optimize your landing pages for conversions with the help of designers who understand the importance of persuasive design elements.
Tailor your existing website to meet your unique requirements, whether it's adding new features or improving its overall functionality.
Data-driven decision-making is essential in digital marketing. Fiverr has a pool of data analysts who can help you make sense of your analytics, generate insightful reports, and identify actionable strategies to improve your marketing efforts.
Recommended Gigs:
Ensure that your website's analytics are properly set up, and obtain meaningful insights to refine your marketing strategy.
Transform complex data into visually appealing charts and graphs that make it easier to understand and communicate with stakeholders.
Obtain detailed reports on the success of your marketing campaigns and identify areas for improvement.
Email marketing remains one of the most effective ways to nurture leads and retain customers. On Fiverr, you can find email marketing experts who can optimize your campaigns and help you achieve better open and click-through rates.
Recommended Gigs:
Create eye-catching and responsive email templates that align with your brand and encourage engagement.
Streamline your email marketing efforts by setting up automated email sequences for welcome emails, abandoned cart reminders, and more.
Ensure your email lists are well-segmented and maintained to enhance the relevance of your email campaigns.
Collaborating with influencers can significantly expand your brand's reach and credibility. Fiverr offers a diverse range of influencers from various niches who can promote your products or services to their engaged audience.
Recommended Gigs:
Save time and effort by hiring freelancers who can handle the entire process of reaching out to influencers and negotiating partnerships.
Work with influencers who can create authentic and persuasive sponsored content that resonates with their followers.
Measure the success of your influencer campaigns with the help of freelancers skilled in tracking key performance indicators (KPIs).
How to Outsource the best Fiverr Service Provider?
To find and outsource the best service provider on Fiverr, follow these steps:
Define Your Requirements: Before you start searching, be clear about the specific services you need. Define your project's scope, budget, and timeline to ensure you can communicate your requirements effectively to potential sellers.
Search and Browse: Go to Fiverr's website and use the search bar to find services related to your needs. Browse through different fiverr gigs and sellers' profiles to evaluate their expertise, experience, and past reviews.
Check Reviews and Ratings: Reviews and ratings are essential indicators of a seller's performance and reliability. Look for sellers with a significant number of positive reviews and high ratings to ensure they have a track record of delivering quality work.
Review Samples and Portfolio: Many sellers showcase their work samples or portfolios on their profiles. Take the time to review these samples to assess the quality and style of their previous work.
Contact Sellers: If you have specific questions or need more information about a seller's services, don't hesitate to contact them directly. You can use Fiverr's messaging system to communicate with sellers and get clarifications.
Compare Prices: While price is not the only factor to consider, it's essential to compare the prices of different sellers offering similar services. Choose a service provider whose rates align with your budget while also considering their expertise.
Look for Specializations: Some sellers may have specific expertise in certain niches or industries. If your project requires specialized knowledge, consider sellers who have experience in that area.
Check Response Time: A seller's response time can indicate how attentive and professional they are. Look for sellers who respond promptly to messages and inquiries.
Consider Fiverr Levels: Fiverr categorizes sellers into different levels based on their performance and customer satisfaction. Top-rated sellers and Fiverr Pro sellers usually have a higher level of experience and commitment to quality.
Read Fiverr Gig Descriptions Carefully: Make sure you understand what the seller offers in their gig description. Pay attention to details like delivery time, revision policy, and any additional services they may provide.
Order a Test Fiverr Gig: If you are uncertain about a seller's capabilities, you can start with a smaller project or order a test gig to gauge their work quality and communication.
Escrow System: Fiverr uses an escrow system, which means your payment is held securely until you approve the work. This protects you from potential scams or unsatisfactory results.
By following these steps and conducting thorough research, you can increase your chances of finding a reliable and skilled service provider on Fiverr who can meet your project requirements.
Remember that communication is key, so be clear and detailed in explaining your needs to the seller to ensure a successful collaboration.
READ MORE:-
Conclusion:- Fiverr Gigs
As a digital marketer, leveraging Fiverr's vast pool of freelancers can be a game-changer for your marketing efforts. From graphic design and content writing to video production and SEO services.
Fiverr offers an abundance of talented professionals who can elevate your online presence and help you stand out in the crowded digital landscape.
When selecting Fiverr gigs, always review the freelancer's portfolio, ratings, and reviews to ensure they align with your brand's vision and deliver the quality you expect.
Effective communication and clear instructions are essential for successful collaborations with freelancers. Embrace the power of Fiverr and take your digital marketing strategy to new heights!
I'm sure you'll find this post "30+ Exclusive Fiverr Gigs for Digital Marketers & Businesses" super helpful in your quest to find the best service provider and Fiverr Gigs for your digital marketing needs.
Sharing is caring, so feel free to pass on this valuable info to others who could benefit from it too. Thanks for hanging out with me, and I hope you have an awesome day ahead!