Hello friends, welcome back to my blog again, Today I gonna share with you an Ultimate List of more than 400 Pinterest Group Boards Niche Specific you can join today.
To make this list more relevant to you, I'll add brand-new groups every month as well as upcoming niches, so that you're able to join more niche-specific boards every month.
Pinterest is one of the best traffic sources for my blog. This is all due to the fact that I have created and joined 100s of Pinterest Group Boards.
Pinterest is not just a social media platform, but it also functions as a search engine for bloggers. And, like me it's the biggest traffic source to so many bloggers.
This is the biggest way to get traffic to any site because when you post a pin to a group board, everyone who follows that board has the chance to see your pin, even if they don't follow you.
But, if you wonder what I'm talking about and what "Pinterest Group Boards" are, allow me to explain the topic first…
What are Pinterest Boards?
A pin is a visual post that is shared on Pinterest, and pins are saved in one's profile and organized within a board. The pins you create or repin can be organized within Pinterest boards by category or purpose.
Pinterest boards are like collections of pictures that focus on a specific topic. People on Pinterest use these boards to find ideas for things they want to buy, get suggestions for home improvement, or gather inspiration for special occasions.
There are millions of pictures called "pins" on Pinterest, and they are all organized into boards. When you create new content, it will be posted on relevant boards, so others can easily find and discover it. If you save or "re-pin" someone else's content, it will show up on search result boards, helping more people find those pins when they search for related keywords.
You can also choose to follow specific Pinterest boards without necessarily following the person who created them. This way, you can see updates and pins from those boards that match your interests, even if you're not following the entire profile.
You can create multiple boards on Pinterest to organize your pins based on different themes or categories. These boards can also help increase traffic to your blog, website, or online store, bringing more visitors and potential customers.
Note: In the given image, if you don't see any pictures of people's faces, it means it's a regular board or a board with only one person contributing to it.
What are Pinterest Group Boards?
Pinterest boards are collections of similar pins, while a Pinterest Group Board is a collection of contributors who can share their same pins on one board. This is just like a Facebook Group or LinkedIn Group.
In other words Pinterest Group boards are similar to normal Pinterest Boards, but here you can have multiple contributors to that board.
There you can easily notice many circles showing faces, these circle faces are indicates that there are many contributors pinning in this boards so it shows it's a Pinterest Group Board.
When you join a Pinterest Group Board, your pin will be pinned to all the contributors and followers of the group board. Even if they do not follow you, they will be able to see your pin.
This means that if you join 100s of Pinterest Group Boards, you have a chance to share your pin with them all.
This means that thousands of people will see it without spending a dime on advertising. Therefore, you are most likely to get free traffic to your blog, website, or online store.
How to Find Pinterest Group Boards?
There you may find many different ways to find Pinterest group boards, but all of these are time consuming.
So, I decided to share a Ultimate List of 400+ Pinterest Group Boards to save your time and efforts, all of them are accepting new contributors at the current time.
I also categorized this Pinterest group boards list according to different niches and topic so that you can select the group boards that is perfect for your niche or theme.
Before joining these group boards, please read the instructions of each Pinterest Board so that you won't be removed for not following their rules. Depends on the group board owner, every board has its own set of rules.
Before joining some group owner ask to send email, or send a private message on pinterest, some may ask to subscribe to their blogs, or fill a form or follow their pages on Facebook, etc.
How to Join Pinterest Group Boards?
To join Pinterest group boards, you generally need an invitation from the board's owner or a current member. Here's a step-by-step guide on how to join Pinterest group boards:
Find relevant group boards: Use Pinterest's search function to discover group boards that align with your interests or the topics you want to contribute to. You can search for specific keywords or browse through Pinterest's curated categories.
Check board descriptions: Click on the group board you're interested in to open it. Read the board description to understand the board's theme, rules, and guidelines. Some board owners mention specific instructions for joining in the description.
Find the board owner: Once you're on the group board's page, look for the board owner's profile picture or username. It is usually displayed at the top of the board's page or in the board description.
Visit the board owner's profile: Click on the board owner's profile picture or username to access their profile.
Follow the board owner: To increase your chances of being noticed and receiving an invitation, click the "Follow" button on the board owner's profile. This action shows your interest in their content and can make it easier for them to reach out to you.
Engage with the board owner: Like, comment, or save some of the board owner's pins to engage with their content. This interaction can help you establish a connection and make you more likely to receive an invitation.
Send a polite request: After you've followed the board owner and engaged with their content, you can send them a polite message through Pinterest's messaging system or any contact information they may have provided. Express your interest in joining their group board and kindly ask if they would consider sending you an invitation.
Wait for a response: The board owner or a current member will review your request and decide whether to invite you to the group board. It may take some time for them to respond, so be patient.
Accept the invitation: If your request is accepted, you'll receive an invitation notification on Pinterest. Click on the notification or visit your Pinterest notifications page to accept the invitation and join the group board.
How to Get Invited to Pinterest Group Boards
To receive an invitation to join a specific Group Board from the group owner, you must initiate contact by sending an email or completing a Group Board application form. Once the group owner receives your email or application form, they will send you an invitation to join their Pinterest group board.
It's important to note that your request may be declined if the group owner is not currently accepting new applications or if your niche or profile does not align with the theme of their Pinterest group boards.
My Proven Script to Send to the group owner to get accepting:-
You can easily write any polite request to join the group board, here is my own script i use to send to the group board owner and accepted in 100s of boards till now…
Hi, "Name of the Group Board's Owner"
May I have an invitation to join your [Name of the Group Board]?
My Pinterest profile link: "Your Profile URL"
My Pinterest account email is: [Your Email Id connected with pinterest] if that makes it easier to find me.
I believe I could offer your board some great & interesting pins from time to time.
Here is a board of the typical pins that I would pin to your board that follow your guidelines:
"share your any board URL similarly to his board "

NOTES:-I also want to be invited for your other "mentioned you niche" group boards.

Thank you for your time and consideration!

"Your Name"
Therefore, I am participating in more then 200 Pinterest Group Boards related to my Blog Niche "Digital Marketing & Make Money", as well as I myself created many relevant Group Boards where you can participate as a contributor.
Before Applying to my Group Boards just follow some rules such as follow me (PassiveIncomeIdeas4U) – get selected for all boards not just one) and Email Me on babitasingh0412@gmail.com. Only pin high-quality vertical pins. Max 5 a day per user. Please repin at least 15 pins per month from the board you want to join.
Apply For Pinterest Group Board Here
Ultimate List Of 400+ Pinterest Group Boards:-
I created this ultimate niche specific list for you. It was very time-consuming for me to create this ultimate niche-specific list, which you can use for FREE and save your valuable time.
I appreciate it if you follow my Pinterest account, and if you pin some pins from my "Make Money Online" board to your own boards, I'll consider it a form of thanks for my efforts, so I'll really thank you for that.
If you have a group board and you want me to add it to the list, please send me a private message on my Pinterest account.
Common Niche Related Pinterest Group Boards:-
Food & Recipes Related Pinterest Group Boards
Fashion & Beauty Niche Pinterest Group Boards:-
Knitting & Crafting Related Pinterest Group Boards:-
DIY, Home-decor & Gardening Related Pinterest boards:-
Pinterest Group Boards list for Travel Bloggers:-
Gift Ideas & Parties Events Related Group Boards-
Now this was my Ultimate List of 400+ Pinterest Group Boards you can join today, but there is something more important rather then joining these groups only. That is you need to pin your pin regularly and manage these groups so all contributor can see your pins and save it in their boards and you can do the same for them.
Here is some of my Pinterest Growth Power booster or Helpful Resources, that can help you to build and grow your online business rapidly using Pinterest Platform.
This is not a easy task to pin your all content regularly to all relevant groups at the best time slot if you are doing it manually.
So therefore I highly recommend a Outstanding Pinterest Pin Scheduling Tool that can do it smartly for you and can save your tons of time and efforts.
This tool not only schedule your pin on all relevant groups but it also shows the time slot to share your pin at the best time according to your country zone. and it is a official partner of Pinterest so it is interlinked with pinterest algorithm strategy so it follows all rules and reduce spam content sharing.
Join This Tool "TailwindApp" Now
Disclosure: This post contains affiliate links as I am an Affiliate Partner with Tailwind and You and Me both will get 1 month FREE Pro Subscription worth $15 if you sign up via my link. You can schedule and publish 100 Pins FREE! for trial. Thanks in advance for supporting my content!
Furthermore, Discover how to generate sales, clicks, and leads for your business by leveraging Pinterest by joining Pinterest Crash Course.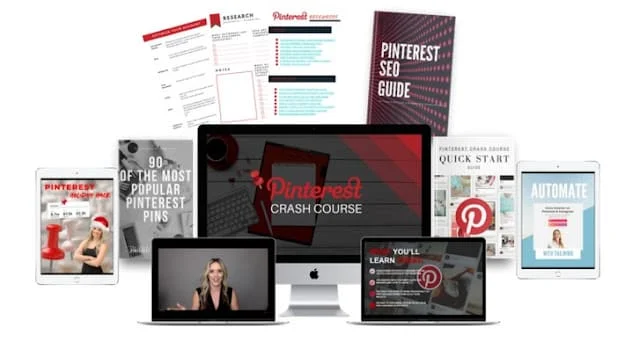 SIMPLE marketing strategies can result in RAPID GROWTH unlike anything you've ever experienced. Nowhere else could you learn such a powerful technique!
Keyfeatures Of Pinterest Crash Course
Pinterest's best-kept secret for making your pins go viral.
You'll discover the secret to getting hundreds of visitors to your website on a daily basis by using this free auto-pilot marketing strategy.
You can almost always rank your content at the top by using these expert tricks.
Replicate your success over and over and over again with the bulletproof duplication formula.
Join "Pinterest Crash Course" Now
Additionally, you can grab the opportunity to learn More Advanced Pinterest Marketing Strategies, as well as how to build 6 figure businesses utilizing this untapped market with PINFUNNELS.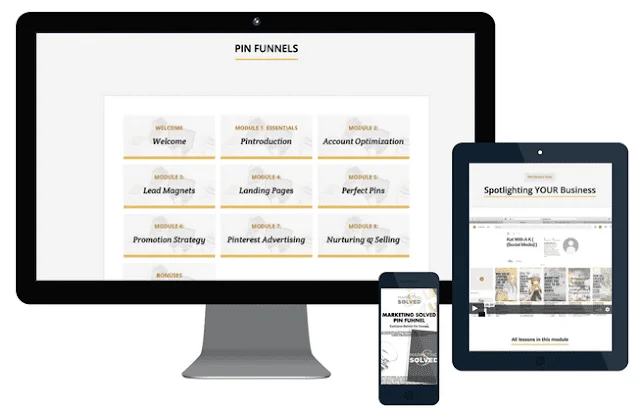 The PIN FUNNELS is a Advance Level Pinterest Marketing Course that will gain you more traffic and sales than any other social media network.
In this Course You get 8 Comprehensive Video Modules that give you easy to follow action steps to set up your PinFunnels quickly in your business.
Learn how to create an amazing lead magnet attracts your target audiences.
How to get every click to become a lead.
Learn our signature Viral Pin formula!
SEVERAL top secret Pinterest advertising strategies.
Learn how to create a Pinterest ad that goes viral and collects leads daily without paying a dime.
The capture and convert system to turn leads into paying customers.
Read More:-
I hope you would find this post useful and valuable, please do share it with someone who looking for it. and if you have any suggestion or query please let me know in comment section.
I'll be come back soon with more good stuffs and spreading my knowledge with you.
Thanks, Make it a Great Day