Astra is a popular WordPress theme designed for bloggers, businesses, and e-commerce stores. It's a lightweight and customizable theme that offers a range of features to enhance your website's design and functionality.
Astra Theme is compatible with popular page builders like Elementor, Beaver Builder, and Brizy, making it easy to create a stunning website without any coding knowledge.
In the vast universe of WordPress themes, finding the perfect balance between performance, customization, and aesthetics can be a daunting task. This is where the Astra Theme steps in, offering a harmonious fusion of speed, design, and flexibility.
In this detailed review, we'll embark on an in-depth exploration of the Astra Theme's features, advantages, potential drawbacks, and most importantly, how it stacks up against some of its formidable competitors like Divi, OceanWP, GeneratePress, and Genesis.
Table of Contents
Astra Theme Features: What Makes It Stand Out
Astra offers a range of features that make it a popular choice among WordPress users. Some of the key features include:
Lightweight: Astra is a lightweight theme that loads quickly and doesn't slow down your website's performance.
Customizable: Astra offers a range of customization options, including multiple layouts, color schemes, and typography options.
Responsive: Astra is a fully responsive theme that looks great on all devices, including desktops, laptops, tablets, and mobile devices.
Page builder compatibility: Astra is compatible with popular page builders like Elementor, Beaver Builder, and Brizy, making it easy to design your website without any coding knowledge.
E-commerce support: Astra offers built-in support for popular e-commerce plugins like WooCommerce, making it easy to create an online store.
SEO friendly: Astra is designed with SEO in mind, making it easier for your website to rank higher in search engine results.
Cons of Astra Theme:-
While Astra is a popular and highly-rated WordPress theme, there are some cons to consider before choosing it for your website. These include:
Limited free version: While Astra offers a free version, it's limited in terms of features and customization options. You'll need to upgrade to the pro version to unlock additional features.
Limited support: Astra offers limited support for the free version of the theme, and support for the pro version is limited to one year.
Limited design options: While Astra offers multiple customization options, some users may find the design options limited compared to other themes.
Astra Theme vs. Other Popular WordPress Themes
In the world of WordPress themes, picking the right one is like finding the perfect puzzle piece for your website. In this comparison of "Astra Theme vs. Other Popular WordPress Themes," we'll dig into what makes these themes special.
From making your site look cool to getting noticed on Google, we'll check out the good stuff that these themes bring to the table. Let's find the best fit for your website together!
Astra Theme
Speed Optimization: Astra's commitment to speed is remarkable. Its lightweight design and clean code contribute to lightning-fast loading times.
Customization Power: With the Astra Customizer, tailoring your website to your exact needs becomes intuitive. Modify headers, footers, layouts, and more with ease.
Starter Templates: Astra offers a rich collection of professionally designed starter templates that cater to various niches, saving you time during the initial setup.
Page Builder Compatibility: Seamlessly integrates with popular page builders like Elementor, Beaver Builder, and more.
Third-Party Plugin Compatibility: Astra plays well with third-party plugins, ensuring you can extend your website's functionality without hassle.
Divi
Visual Builder: Divi's visual builder allows real-time customization with a drag-and-drop interface, making it user-friendly.
Feature-Rich: Divi includes a multitude of modules, effects, and options, making it an all-in-one solution for various website types.
Learning Curve: The abundance of options might come with a learning curve, especially for beginners.
Heavier Code: Due to its feature-rich nature, Divi can be heavier compared to lightweight themes like Astra.
OceanWP
Extensive Options: OceanWP offers an impressive array of customization options, covering everything from typography to layouts.
WooCommerce Integration: Known for its seamless integration with WooCommerce, making it an excellent choice for e-commerce.
Demo Library: OceanWP provides a broad range of demo sites that can be imported and customized according to your needs.
Performance: While optimized, some users have reported that OceanWP's extensive features might impact performance.
GeneratePress
Lightweight: GeneratePress prides itself on being a featherweight theme that loads quickly, contributing to a positive user experience.
Developer-Friendly: It offers hooks and filters for developers to extend its functionality.
Simplicity: GeneratePress might lack some of the more advanced customization options available in themes like Astra or Divi.
Free vs. Premium: The free version is quite basic, with the premium version unlocking advanced features.
Genesis
SEO Focus: Genesis is known for its clean code and SEO-friendly structure, contributing to better search engine rankings.
Security: The Genesis framework is built with security in mind, which can be a major advantage for website owners concerned about safety.
Customization Challenge: Genesis can be less intuitive for users who are not familiar with coding, as its customization often involves working with child themes.
| | | | | |
| --- | --- | --- | --- | --- |
| Theme Name | User-Friendly | Simplicity | SEO Focus | Speed |
| Astra | Yes | Intuitive | Moderate | Lightning-fast |
| Divi | Yes | Moderate | Basic | Varies |
| OceanWP | Yes | Moderate | Basic | Optimized |
| GeneratePress | Yes | Limited | Basic | Fast |
| Genesis | Moderate | Challenging | High | Moderate |
Astra Theme Comparative Analyse
How to Install and Set Up Astra Theme:
Setting up the Astra Theme on your WordPress website is a straightforward process. Follow these simple steps to get your site up and running with Astra's powerful features and customization options.
Step 1: Log into Your WordPress Dashboard:- Log in to your WordPress admin panel using your credentials.
Step 2: Access the Appearance Section:- From the WordPress dashboard, locate and click on the "Appearance" tab in the left-hand menu.
Step 3: Choose the "Themes" Option:- Within the "Appearance" section, select "Themes" from the submenu that appears.
Step 4: Click on "Add New":- On the "Themes" page, look for the "Add New" button near the top and click on it.
Step 5: Search for Astra Theme:- In the search bar on the "Add Themes" page, type "Astra" and hit the "Enter" key.
Step 6: Install Astra Theme:- You'll see the Astra Theme listed in the search results.

Click on the "Install" button below the Astra Theme's thumbnail.
Step 7: Activate Astra Theme:- Once the theme is installed, the "Install" button will change to "Activate."

Click on the "Activate" button to make Astra your active theme.
Step 8: Explore Astra's Starter Templates (Optional):- After activating Astra, you have the option to explore Astra's library of starter templates.

These templates are pre-designed layouts that you can import and customize for your website.
To access the starter templates, go to the Astra settings or customizer, depending on your theme version.
Step 9: Customize Astra Theme:- Navigate to the "Customize" option under the "Appearance" menu.

Here, you'll find a range of customization options to tailor your website's look and feel.
Modify site identity, colors, typography, layout, headers, footers, and more using the intuitive customization interface.
Step 10: Add Content and Plugins:- With Astra set up, start adding content to your website.

Including pages, posts, and any additional elements you need.
If desired, enhance your website's functionality by adding plugins that align with your goals.
Astra is compatible with many popular plugins.
Step 11: Fine-Tune and Launch:- Take your time to fine-tune every aspect of your website using Astra's customization options.

Preview your changes before making them live to ensure your website appears exactly as you envision it.
Once you're satisfied with the customization, content, and functionality, hit the publish button to launch your website for the world to see.
Congratulations! You've successfully installed and set up the Astra Theme on your WordPress website. Enjoy exploring its features, customization capabilities, and seamless integration with your content.
Astra Theme Customization: Tips and Tricks
Unleashing Astra's customization potential serves as a playground for both designers and developers. Here are valuable insights to leverage its capabilities:
Astra Customizer: Engage with a comprehensive spectrum of settings via "Appearance" > "Customize."
Layout Mastery: Tailor your website's layout, encompassing headers, footers, and sidebars, harmonizing with your vision.
Typography Finesse: Select from an expansive array of fonts, meticulously refining text styles.
Color Symphony: Craft a harmonious color palette resonating with your brand identity.
Header and Footer Artistry: Construct exclusive headers and footers seamlessly through the intuitive drag-and-drop builder.
Astra Theme Add-ons: Enhancing Functionality and Design
Astra's add-ons extend an avenue to elevate your website's capabilities and aesthetics. Consider these notable add-ons:
Astra Pro: Elevation to advanced customization domains and an expanded array of starter templates come with the pro version.
Ultimate Addons for Astra: Infuse fresh modules and widgets, elevating the website's functionality.
Convert Pro: Elevate user engagement and conversion rates by crafting compelling pop-ups and opt-in forms.
Astra Theme Performance: Why It's One of the Fastest WordPress Themes
Website speed is a cornerstone of user satisfaction. Astra's commitment to performance shines brightly:
Lean Codebase: Astra's code is meticulously optimized to ensure minimal resource consumption.
Rapid Load Times: Its streamlined design leads to swift loading, reducing bounce rates and boosting user engagement.
Performance-Centric Approach: Astra adheres to industry best practices, resulting in impressive performance scores.
Astra Theme for E-Commerce: How to Build an Online Store with Astra
Astra's prowess extends seamlessly to the realm of e-commerce. Here's how to harness its potential for your online store:
WooCommerce Harmony: Forge a powerful online shop by seamlessly integrating Astra with WooCommerce.
Product Presentation: Utilize Astra's design options to showcase your products in an enticing manner.
Optimized Checkout: Customize the checkout process to deliver a smooth experience, potentially translating to higher conversion rates.
Performance Equals Success: Astra's speed optimization ensures a seamless shopping experience for customers, enhancing the likelihood of sales.
Astra Theme Pricing: Is It Worth the Investment?
The Astra Theme offers different pricing plans that cater to various needs. These plans typically include a free version with basic features and paid options with more advanced features and customization options.
Whether it's worth the investment depends on your specific requirements. If you're a casual blogger or have a simple website, the free version might be sufficient.
However, if you're a business or professional needing more design and functionality options, a paid plan could be worthwhile. Paid plans often come with benefits like premium support, more pre-designed templates, and advanced customization settings.
Making the choice to invest in a premium theme like Astra necessitates a thorough evaluation. Let's delve into its pricing structure and determine its value proposition: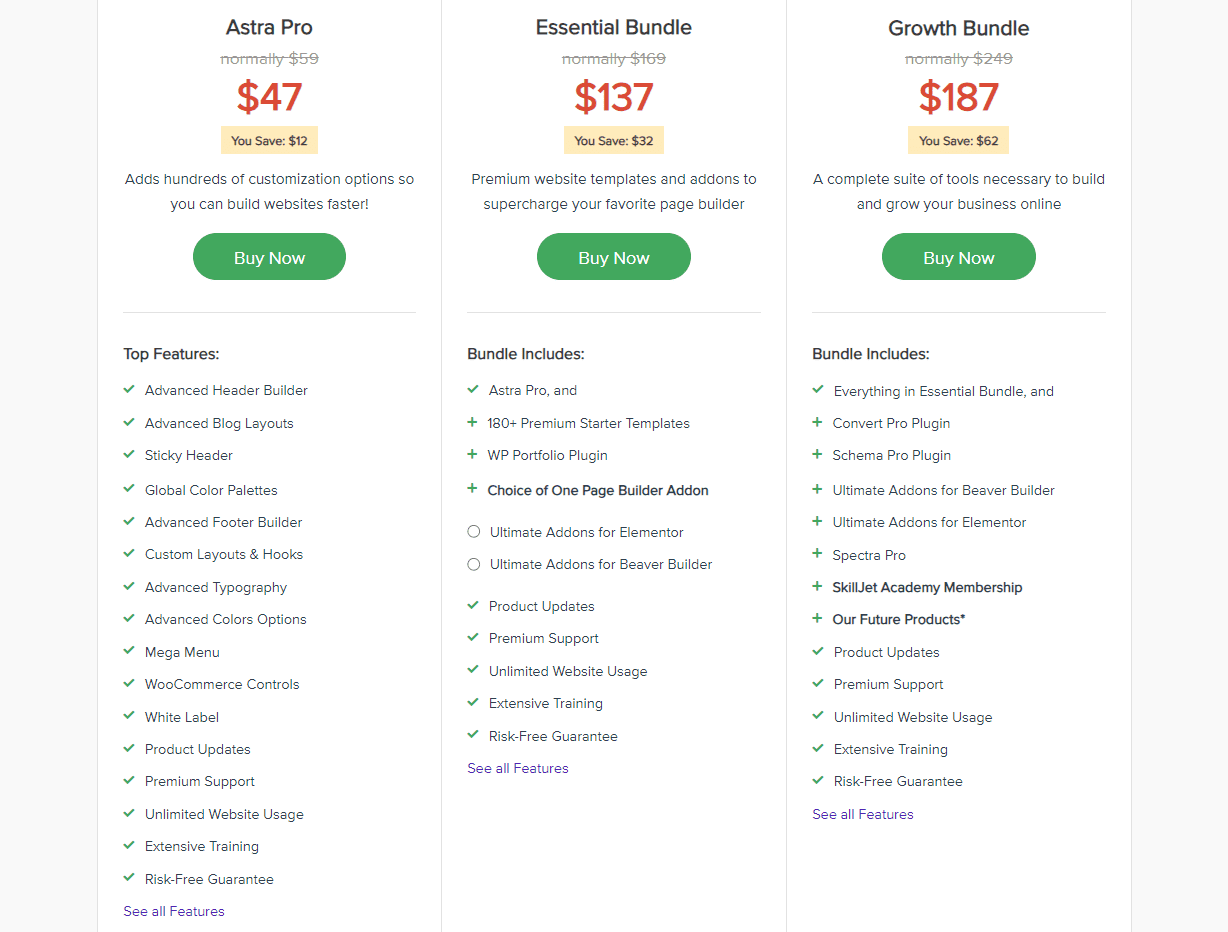 To determine if the Astra Theme's pricing is worth it, consider your website's goals and complexity, and compare the features offered in each plan.
Astra Free: The free version offers a robust set of features, making it a viable choice for various projects.
Astra Pro: Unlock an array of advanced features and customization options with the pro version.
Agency Bundle: This comprehensive package encompasses Astra Pro, WP Portfolio, and other potent plugins, catering to diverse needs.
Conclusion: Is Astra Theme Right for You?
In the grand tapestry of WordPress themes, Astra stands as a compelling choice that merges design, speed, and customization seamlessly.
Whether you're a tech-savvy developer or a budding blogger, Astra's diverse strengths make it a viable contender for your online project.
Its commitment to performance, array of customization options, and compatibility with page builders and plugins set it apart. However, as we've explored, Astra is not alone in this journey.
Ultimately, the choice hinges on your specific needs, preferences, and familiarity with customization tools. With Astra, you're not just adopting a theme; you're joining a journey of empowerment and creativity.
So, whether you're an entrepreneur sculpting an online store or a blogger weaving your digital narrative, Astra's potential is yours to explore.
The quest for the perfect theme is a noble one, and Astra beckons as a formidable companion in your digital odyssey. Elevate your website's essence with Astra today – a theme that's more than code; it's a canvas for your aspirations.