Hey friends, Looking for an easy way to make money online with Amazon, but don't have a product to sell? Consider starting a career as Amazon Associates in India!
With Amazon's vast customer base and reputation as the top online shopping destination, earning money through Amazon Affiliate Program can be simple and straightforward.
Learn Amazon Affiliate Marketing & how to get started and begin earning with this easy-to-follow plan. Don't miss out on the opportunity to partner with one of the world's leading trillion-dollar companies.
Amazon's history is a fascinating one. The company was established in 1995 by Jeff Bezos, in a garage just outside of Seattle. Fast forward to today, Amazon has over 48,000 employees all around the globe and its headquarters are still located in Seattle, Washington.
Initially, Amazon started as an online store selling music and videos, but eventually, it dominated the book-selling industry.
Nowadays, Amazon provides an excellent opportunity for those looking for amazon work from home jobs or start a part-time side business. You can learn how Amazon operates and potentially create a reliable source of income for the long term.
With Amazon, you don't need to worry about managing inventory or having your own warehouse facility, which can involve a lot of documentation.
What is Amazon Associates Affiliate Program?
The Amazon Associates Affiliate Program is a top-tier affiliate marketing program that offers an excellent opportunity for small website owners and bloggers to generate income. By creating unique referral links to Amazon products, affiliates can earn referral fees for each sale generated through their links.
This program is a legitimate and reliable way to make money online, and it's considered one of the best affiliate programs on the internet.
With Amazon's global reach, affiliates can join the program from anywhere in the world, and the best part is that it's free to join and easy to use. Whether you're a seasoned marketer or just starting, Amazon's Affiliate Program is an excellent option to consider.
Amazon Work From Home Jobs
Amazon, one of the world's largest e-commerce companies, offers a variety of work from home job opportunities. With a growing demand for remote work options.
Amazon has expanded its virtual workforce to include positions in areas such as customer service, sales, software development, and data analysis.
Amazon also offers part-time and flexible scheduling options for many of its work from home positions. Some of the benefits of working for Amazon from home include a flexible work-life balance, the ability to work from anywhere with an internet connection, and opportunities for career advancement within the company.
Some of best Amazon work from home jobs includes…
Remote customer service representatives.
Remote sales associates.
Software development and data analysis positions.
Freelance Work from home jobs… Third-party services to seller such as product listing, photo shoot, account management, etc.
Read More:- Detailed article Exploring Amazon Work from Home Jobs: Options & Opportunities.
How to sign up for Amazon Associates
Amazon Associates program is an excellent choice for anyone looking to monetize their website, blog, or YouTube channel through affiliate marketing.
Apart from running the world's largest online shopping portal, Amazon also provides web services that are designed to help its associates earn money through product promotions and sales.
The program allows you to add links to any product on Amazon's website to your content, and when a visitor clicks on that link or makes a purchase, you earn a commission.
Whether you want to create an e-commerce store or a product review site, Amazon Associates can help you earn money through your online presence.
To join the Amazon Associates program, you need to follow a few simple steps. here is a detailed step-by-step guide to signing up for Amazon Associates:
Step 1:- Go to the Amazon Associates Homepage
The first step is to go to the Amazon Associates homepage, which is https://affiliate-program.amazon.com/. From here, you can click on the "Join Now for Free" button to start the sign-up process.
Step 2:- Log in or Create an Amazon Associates Account
If you already have an Amazon Account, you can simply log in using your email address and password. If you don't have an Amazon account, you'll need to create one by clicking on the "Create your Amazon account" button and following the on-screen instructions.
Step 3:- Fill out Your Personal & Business Information:
Once you're logged in, you'll be asked to fill out some personal information, such as your name, email address, and physical address. This information will be used to verify your identity and to send you payments.
You'll need to provide information about your website or mobile app, such as its name, URL, category, and the type of content it features.
Amazon has certain requirements for websites and mobile apps that want to join the Amazon Associates Program, so make sure you read and follow the guidelines carefully.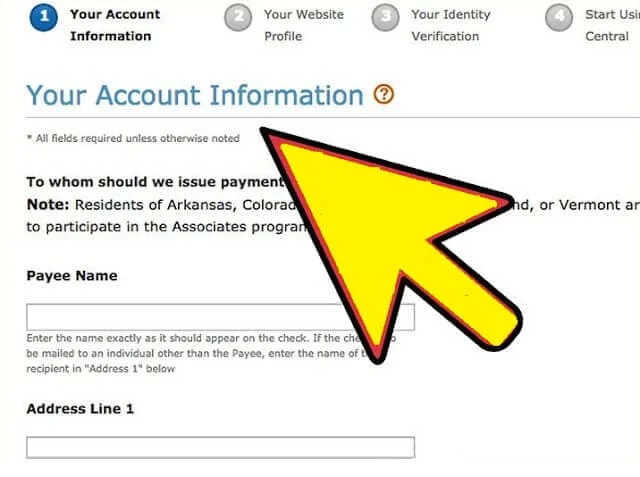 Step 4:-Read and agree to the Operating Agreement
Before you can become an Amazon Associate, you'll need to read and agree to the Amazon Associates Operating Agreement. This agreement outlines the terms and conditions of the program, including commission rates, payment schedules, and other important information.
Step 5:- Provide Your Tax Information and Payment Details:
You'll need to provide your tax information and payment details, such as your social security number or tax ID number, and your bank account information. This is necessary for Amazon to be able to pay you the commissions you earn through the Associates program.
Step 6:- Verify Your Email Address
After you've filled out all the required information, Amazon will send you an email with a verification link. You'll need to click on the link to verify your email address and complete the sign-up process.
Once you've completed all the steps, your application will be reviewed by Amazon. This process can take up to 24 hours, so be patient. If your application is approved, you'll receive an email from Amazon with instructions on how to start using the Associates program.
Final Step:- Start Creating Amazon Associates Affiliate Links
Once you're approved for the program, you can start creating Amazon affiliate links and promoting products on your website or mobile app.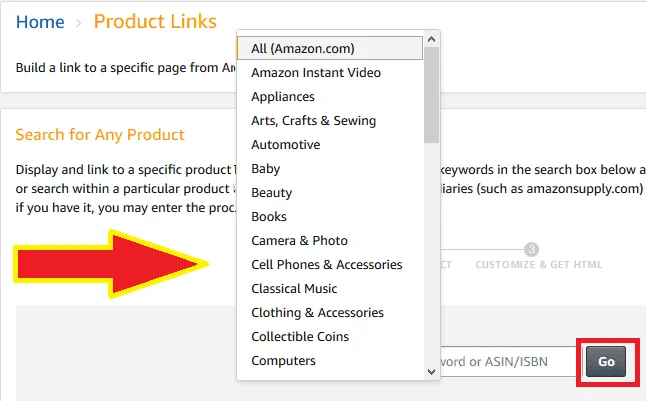 To create a link, simply log in to your Amazon Associates account, search for the product you want to promote, and generate a custom link that includes your unique Associates ID.
When someone clicks on your link and makes a purchase on Amazon, you'll earn a commission.
Monetize Your Blog & Sites with Amazon Affiliate Links
Monetize your blog and websites by incorporating Amazon affiliate links. With the Amazon Associates program, you can earn commissions for qualifying purchases made through your unique affiliate links.
By strategically placing these links within your content, such as product reviews or recommendations, you can drive traffic to Amazon and earn a percentage of each sale.
Amazon offers a wide range of products, ensuring there's something for every niche. Take advantage of this opportunity to generate passive income and leverage Amazon's trusted reputation and vast product selection.
Start monetizing your online presence today with the power of Amazon affiliate links.
READ MORE:- How to Monetize Your Blog & Sites with Amazon Affiliate Links?
How to Promote Amazon Affiliate Links?
Amazon dominates the world of eCommerce, accounting for nearly 50% of total online revenue. It goes beyond being a mere shopping platform, acting as a search engine and database that tailors results based on users' interests, demographics, and preferences.
This makes it an ideal resource for targeting specific markets and identifying hot-selling products. Here are a few ways to profit from the Amazon Associates program:
Find Your Niche and Pursue Your Passion:-
Build a website, start a blog, or create a YouTube channel centered around your area of interest. Focus on products that align with your passion to effectively sell, review, or promote them.
Create Product Review Videos on YouTube:-
Create a YouTube Channel around the niche you want to promote amazon associates products and create product review videos. Therefore, you easily incorporate your Amazon affiliate links into the description box of your YouTube videos.
If possible, obtain or borrow the product to create an informative video highlighting its pros and cons. Alternatively, use screen capture videos with voice-overs, as demonstrated in training videos, if purchasing the item isn't feasible.
Create an Amazon Affiliate Marketing Website:-
Construct an online store that revolves around your niche and transform it into a monetized platform. Integrate affiliate links, banners, promo codes, and deals to generate revenue from your visitors.
Take advantage of these strategies to tap into the immense potential of Amazon's affiliate program and capitalize on its status as the leading eCommerce platform.
READ MORE:- Top Ranked Website Design Tools for Creating Stunning Websites
Final Thought On Amazon Associates Program
In conclusion, the Amazon Associates program is an excellent way for website owners, bloggers, and YouTube creators to monetize their online presence and earn money through affiliate marketing.
With millions of products available on Amazon, associates have a vast array of options to promote and earn a commission on. Additionally, the program is easy to join and provides useful tools and resources to help associates succeed.
However, it's essential to follow Amazon's guidelines and terms of service to avoid any issues with your account. Overall, if you're looking for a reliable and profitable affiliate marketing program, the Amazon Associates program is definitely worth considering.
I hope this post has provided you with a clear and concise understanding of the Amazon Associates program. If you know anyone who can benefit from this program, please share this post with them.
Furthermore, I welcome your thoughts and suggestions in the comment box. Please feel free to let me know if there is anything else I can add to this post to make it even more informative and helpful to our visitors.
Thank you for taking the time to read this post, and I hope it has been beneficial to you.